Minecraft On Consoles Gets A Major Update, Get The Details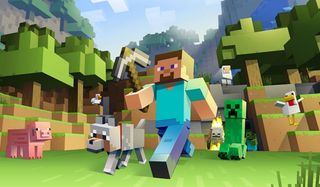 Both the Xbox and PlayStation versions of Minecraft have just received a massive patch, nearly bringing those versions of the game up-to-date with everyone's favorite blocky adventure on PC.
It's been a few years coming, but the console version of Minecraft will be nearly 100 percent complete after today. The Xbox 360, PlayStation 3, Xbox One and PlayStation 4 versions of the game have always been a bit behind the original PC iteration of Minecraft, but now that gap has been drastically closed.
The news was made official over on the Mojang blog, where the team laid out the extensive list of additions dropped into the versions of Minecraft listed above. You may have noticed that the Wii U version of Minecraft was not included in those ranks. Well, that's because it only launched on that console this past week. With any luck, the team should be able to push out a similar update for Wii U quickly, since all of the other versions of the game are now current.
Officially dubbed "Update 1.8.8," Mojang explains that this is the biggest update to ever be dropped on the console versions of Minecraft., which isn't too hard to believe. Outside of the occasional skin packs, updates on console have offered more minor additions to the game like new materials, a couple of new mechanics and horses. This newest list puts all of that past content to shame. It's so big, in fact, they decided to make a trailer highlighting some of the biggest additions.
If you haven't played much Minecraft on consoles, it might be difficult to recognize what's so special about the above trailer. So here's a brief rundown of all of the new goodies fans have to be excited for.
For starters, you're getting new items in all game modes, including armor stands, rabbits and their various recipes, new fish, potions (including Water Breathing), flowers, etc. Loads of new block types are also included, as well as the highly-anticipated biomes for Mesa, Mega Taiga, Roofed Forest, Birch Forest, Forest Savanna, Extreme Hills, Deep Ocean and Snowless Taiga. Those biomes will be populated with new baddies, too, including Endermite, Guardians, Elder Guardians and Chicken Jockeys.
There's a massive list of new features, too, so you'll want to check out that original post from Mojang to get the full story. The list includes loads of standard tweaks to make the console games more on par with the PC version of Minecraft, so no more adjusting your brain to what you can and can't do when going back and forth between the two versions.
And in case all of that seems too overwhelming, you'll have a new tutorial world to explore to help get you acclimated to all of the changes within the game. So, yeah, get to building!
Your Daily Blend of Entertainment News
Staff Writer for CinemaBlend.