The Harry Potter Spinoff Is Getting A Virtual Reality Experience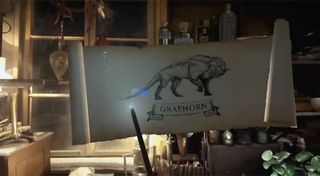 (Image credit: Google/Warner Bros)
J.K. Rowling's Fantastic Beasts And Where To Find Them is making the leap from the big screen to the mobile screen thanks to Google's new Daydream View VR headset. The app was announced by Google in collaboration with Warner Bros.
Venturebeat did a quick write-up on the new tag-team between the two media giants for the Harry Potter spin-off from the famed author, noting that the app will be available for the Daydream View headset and will work with Google's new Pixel line of smartphones.
There isn't a whole of lot info on the game but we do know that players will be able to examine parchments, look at fantastic beasts and exercise a bit of magic using a floating wand. It appears to be very similar to other interactive scene apps for VR devices, a little like the upcoming Rocksteady game for the PlayStation VR, Batman: Arkham VR. In the case of Rocksteady's title, you don't actually move around but instead, you can interact with various scenes using the PlayStation Move controllers. The headset allows you full rotational views of a scene but you can't actually walk around.
Based on the short clips we see of Fantastic Beasts And Where To Find Them, it appears as if it's going to utilize the same scene-to-scene method of interaction, where players will be in a room where they fiddle with things and exercise a bit of magic, but there isn't going to be actual movement within the space.
A lot of VR apps seem to be avoiding momentum based movement and any sort of acceleration or deceleration to avoid people from getting motion sickness. It's been an issue that a lot of developers are trying desperately to stay away from, especially after a lot of journalists apparently got sick after playing Resident Evil 7 for the PlayStation VR at this past year's E3. Part of that was due to unoptimized frame-rate issues, so it wasn't entirely just the fault of VR in itself.
Many developers are attempting to play it safe by focusing most of their apps on stationary experiences where travel is conducted through teleportation or screen transitions instead of actual movement. This limits the issues that some people had with motion sickness and likely prevents any potential lawsuits.
In the case of Fantastic Beasts And Where To Find Them the game is likely aiming for a younger audience, and the last thing any parent needs is their kid slapping on the Google Daydream View headset and then having to vomit 10 or 15 minutes later.
Graphically, though, the game actually looks a lot better than what I was expecting for a mobile app. The visuals aren't put on display for very long but it's enough to see that the lighting is fairly high quality (although this could be due to the scenarios being pre-baked instead of rendering real-time shadows and light sources) and the one beast that we briefly get to see looks pretty good. It's nothing spectacular but it's also not too far off from how PlayStation VR titles look.
Unfortunately we don't get a lot of details on the actual gameplay for Fantastic Beasts, and they don't announce an actual release date, but it's likely set to arrive around the time of the launch of the Daydream View, which is due to debut on the market for $79.99 starting this November, just in time for the holiday rush.
Your Daily Blend of Entertainment News
Staff Writer at CinemaBlend.