What Is Final Fantasy XV Omen?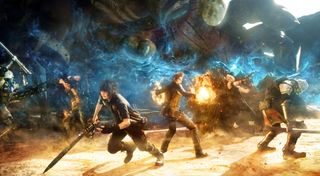 Square Enix has even more Final Fantasy XV content on the way, assuming the anime series wasn't enough, the CG movie Kingsglaive didn't fill your belly, and if the Episode Duscae didn't whet your appetite. But what is Final Fantasy XV Omen?
The tweet was posted up on the English version of the official Final Fantasy XV Twitter account, indicating that the mysterious news about the game would go live Thursday, October 27th at 7:00am Pacific Standard Time.
If you notice, the time listed on the poster is 1600 CEST, that's Central European Standard Time at 4:00pm in the afternoon for those in countries like France. If you head over to the official Paris Games Week website, you'll note that the 1600 CEST (or 4:00pm) is directly one hour after a Final Fantasy XV video exhibition set to take place between 2:00pm and 3:00pm CEST.
They don't say exactly what will be showcased of Final Fantasy XV but it will be hosted through Jeuxvideo.com, which is known for hosting lots of premiere video game content. That will take place in Hall 1 of the Paris expo Porte de Versailles. The expo itself will run between October 27th and October 31st, which spans the likes of Halloween for many gamers.
And speaking of Halloween... the subtitle of "Omen" for the new Final Fantasy XV tease could be something related to the spooky annual holiday. It fits in line with the theme and all, or it could relate to something story-oriented around Noctis, since they show him in the car. It's possible that since it's something showcased via video it could end up being a new trailer to showcase something that is an omen for Noctis. It sounds like something that might be related to an enemy boss that haunts the boy band across their journey to Luna.
Game Informer points out that there is a song on the soundtracks for Final Fantasy VI and Final Fantasy X titled "Omen", and since the video will be made available on the official YouTube channel for the game, it's completely possible that it could be a music video featuring the song "Omen". That's a really interesting observation, because Final Fantasy VI is still considered to be one of the best games in the series (and one of the best JRPGs of all time), and a large part of that was due to Nobuo Uematsu's timeless soundtrack for the game.
If the reveal happens to be related to the music of Final Fantasy XV, then this could most certainly open the door for an interesting look at the game's soundtrack. For now we do know that the music is being composed by Yoko Shimomura -- who has given the game a whimsically elegant theme -- but "Omen" could be something separate by a completely different group.
Of course, we can't know for sure until we find out what Square has planned come October 27th. Until then, feel free to take a wild stab in the dark as to what this revelation might be.
Final Fantasy XV is scheduled to release on the Xbox One and PS4 on November 29th.
Your Daily Blend of Entertainment News
Staff Writer at CinemaBlend.