A Major DC Superhero Title Is Now Backwards Compatible On Xbox One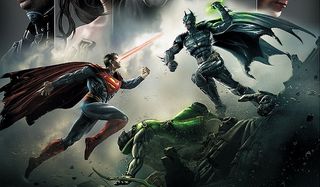 The library of backwards compatible Xbox 360 games for Xbox One grew by two more titles this week, including a beloved fighting title that should make DC fans pretty happy.
Announced through the Major Nelson Twitter account, folks gaming on the Xbox One can now enjoy last gen titles Haunted House and Injustice: Gods Among Us on their current gen console.
That should come as great news for fans of the DC universe, giving them yet another avenue to experience their favorite heroes and villains in 2016.
It's been a pretty big year for DC, including the launch of the deadly serious Batman v Superman and the polar opposite antics of Suicide Squad in theaters. On the television front, shows like Arrow, The Flash, Legends of Tomorrow and Supergirl continue to impress, with every single one of them enjoying a big, and apparently massively successful, crossover event throughout the past week.
Things have been a bit quieter in the DC gaming world, but this latest news from the Major Nelson Twitter feed will help distract us for a bit.
While not the first fighting game to feature DC characters, Injustice is certainly the best. Coming from the studio responsible for the Mortal Kombat games, Injustice was a surprise hit several years back, combining familiar characters with a brand new fighting engine that kept brawls unique and action-packed.
Rather than just copy and paste DC characters like The Joker and Cyborg onto the Mortal Kombat engine, the team at NetherRealm Studios instead took that familiar skeleton and retooled it for a brand new fighting experience. Boasting unique systems, clever environmental maneuvers, multi-tiered arenas and super moves that, while not lethal, are every bit as over-the-top as Mortal Kombat's Fatalities, Injustice proved it could stand on its own two feet as a quality fighting experience.
Even better was the fact that NetherRealm built in a fantastic single player campaign, letting players take control of the majority of the roster in order to unravel a super-powered narrative that spanned two universes. There were some pretty fantastic events bringing all of these characters together and, thanks to comic book magic, the alternate dimensions even explained why you might have Batman fighting Batman.
For those of you who missed out on Injustice, now would be a great time to catch up. You can play it as of today on you Xbox One, which should get you ready for next year's launch of the already impressive Injustice 2. Featuring a brand new story, a remixed cast of characters and a cool customization ability, we expect to hear even more about Injustice 2 in the coming months.
Until then, let us know what you think of its predecessor in the comments below.
Staff Writer for CinemaBlend.
Your Daily Blend of Entertainment News
Thank you for signing up to CinemaBlend. You will receive a verification email shortly.
There was a problem. Please refresh the page and try again.