Ace Attorney Has New Merch, And You Might Want Some Of Your Own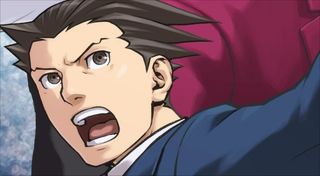 (Image credit: Capcom)
Capcom is celebrating the 15th anniversary of Phoenix Wright: Ace Attorney. The series has become a breakout sensation and has contributed to massive success for both Capcom and Nintendo. Well, there's some new merchandise made available in celebration of the 15th-anniversary milestone.
Perfectly Nintendo is reporting that various types of gear are currently planned for release very soon as part of the Ace Attorney anniversary celebration. There's the Ace Attorney themed carrying case, which will launch on March 30th for 32,400 yen, which roughly translates into $279.99. Not cheap by a long shot.
However, the carrying case is a quality made design with both a cloth custom livery on the front and a hard laminate plastic on the back. A retractable handle and wheels allow you to roll it around with ease, and the middle unzips to reveal a deep compartment inside that can be secured with adjustable fasteners. Several other zipper compartments can also be found inside for additional storage purposes. There are seven different designs all themed around the Ace Attorney series, including the justice heraldic badge set against a purple color scheme.
A replica judge's gavel from the series will also be attainable starting in next month. If you can't wait for February to get here to celebrate Ace Attorney, there's a new Navitime app that will be available starting January 23rd featuring icons and references to the series to help give your smartphone a Phoenix Wright makeover.
The last piece of paraphernalia that can be purchased is the Ace Attorney Encyclopedia 2001 -- 2016 book. The book will be available on March 21st and it will cover all of the events from the Ace Attorney series over the past 15 years. It will be 336 pages featuring timelines, characters, details on each case, as well as information on six secret stories within the Ace Attorney universe.
It doesn't end there, though. Capcom will also release Monster Hunter Explore equipment featuring Ace Attorney clothing items and characters, this includes a number of different accessories, pets, and weapons. There's a giant pointing finger sword along with a shield that reads "Objection". It looks as ridiculous as it sounds. There are also four sets of clothing featuring 12 different items. Gamers will be able to deck their character out with four different hairstyles, two different suits, two different dresses and two different sets of pants. You'll be able to utilize clothes from Miles Edgeworth, Phoenix Wright, Mayoi Ayasato and Franziska von Karma.
They don't say if the equipment is simply cosmetic or if there's some kind of special attributes attached to the items. Most of the other equipment is there to showcase a bit of individuality for your character, which has been the case for many of the other costumes Capcom has released for the Nintendo 3DS version of Monster Hunter Generations.
In the case of the Ace Attorney outfits making an appearance in Monster Hunter Explore, you can expect to get your hands on them between January 25th and January 30th. It's not entirely clear if this will also apply to regions outside Japan but I'm sure Capcom will clarify soon enough.
Your Daily Blend of Entertainment News
Staff Writer at CinemaBlend.
Your Daily Blend of Entertainment News
Thank you for signing up to CinemaBlend. You will receive a verification email shortly.
There was a problem. Please refresh the page and try again.