Monster Hunter Generations Finally Locked Down A Release Date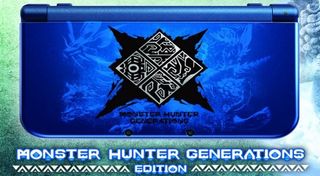 Capcom has announced that the Nintendo 3DS exclusive, Monster Hunter Generations, now has an official release date for when it'll arrive in the West. Gamers can expect to see it on digital e-tailers and physically on retail shelves starting July 15.
Game Informer spotted the news from Capcom, who recently sent out press releases indicating that the portable action-adventure game would be coming to Nintendo's handheld systems.
Additionally, a special edition Monster Hunter Generations New Nintendo 3DS XL was revealed, coming with a blue livery with a monster embossed in the background with the Monster Hunter's "Fated Four" plastered on top. The "Fated Four" are the four brand new monsters featured in the game that players will be hunting. Think of them as the top of the top bosses in the game.
Game Informer notes that the special edition 3DS won't come with a copy of the game, so you'll still have to pick up a digital or physical copy separately.
New to this Monster Hunter game is the ability to use the C-stick on the newer 3DS systems to control the camera. They've also brought the user accessibility options into the 21st century by allowing gamers to map functions to the ZL and ZR buttons. Thank you for adding that option Capcom, we've only been customizing controls in games for the past 30 years.
Aside from some of the new features, a lot of the popular features are also returning, such as visiting different locations to stock up on supplies and party up with friends in the game's undeniably fun co-op sessions, as well as collect and craft weapons from over 20 different hunting locations.
Typical to most Monster Hunter titles is the ability to create your own hunter and start off with humble beginnings before venturing out into the great wild. You will still be able to deck out your hunter with a variety of different armor sets and weapon types, changing and altering gear to fit not only your play-style but also the requirements of the monsters that will test your mettle, tactical abilities, and thumb-work.
If you feel you have the resolve to kick the butts of monsters and take their names like some kind of expert Monster Hunter, you can look to try your hand at the upcoming Monster Hunter Generations ahead of its official release with a playable demo. Capcom has been known for handing out demos of the games leading up to their release, and this newest title is no exception.
Capcom has been riding high on Monster Hunter lately with promising revenue from their collaboration with Tencent for the MMO that's available exclusively in China, and following up on Monster Hunter 4 Ultimate, they want to further delve into the Western consumer pool with Monster Hunter Generations.
The series doesn't seem to be slowing down in popularity, and with more refined controls, better graphics (for the portable outings, anyway) and newer monsters and gear to hunt and collect, I'm guessing Capcom is going to be adding another notch to their belt of success with the upcoming 3DS title. And remember, you can look for it to go live this summer on July 15.
Staff Writer at CinemaBlend.
Your Daily Blend of Entertainment News
Thank you for signing up to CinemaBlend. You will receive a verification email shortly.
There was a problem. Please refresh the page and try again.