Why The Witcher's Original Writer Doesn't Make Money From The Games' Sales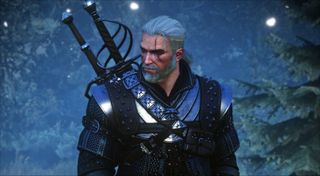 (Image credit: CD Projekt Red)
Polish author and writer of the original Witcher novels, Andrzej Sapkowski, doesn't receive any royalties from the sales of CD Projekt Red's trilogy of Witcher titles. Well, there's a very stark reason as to why the original writer doesn't make money from the games' sales.
Gamespot picked out snippets from Andrzej Sapkowski's interview he had recently with Eurogamer, where he plainly explained why he doesn't receive any money on the backend of The Witcher sales for home consoles and PC, saying,
Some of the people in the comment section ripped Andrzej Sapkowski a new one for not having taken up the deal for earning royalties on the sales of The Witcher. The game series has amassed more than 15 million sales and continues to grow, becoming one of the biggest franchises to debut since seventh gen.
However, how was Sapkowski supposed to know that?
At the time CD Projekt was a tiny little Polish studio with big dreams. The Witcher wasn't a brand with the kind of recognition it has now; back when they first got started it was just a small national treasure in Poland. The series is now a globally recognized franchise that spans multiple platforms and entertainment mediums.
It would make sense for Andrzej Sapkowski to take a lot of money upfront, because if the original game tanked and he was set to receive residuals he wouldn't have made anything off the deal. This sometimes happens with other adaptations, and it's a lose-lose for everyone involved. In this particular case, Sapkowski didn't see anything wrong with taking a "big bag of money" right at the start so he could live life comfortably.
Is it possible that he could make some more novels, strike a new deal with CD Projekt Red and maybe start making some money off the tail-end of the game's sales? That's completely possible. In the interview with Eurogamer Sapkowski says "why not?" to a new novel in the series, and this could potentially open new doors for negotiating higher returns from the Polish game studio.
There are still a lot of fans hoping for another entry in The Witcher series, but CD Projekt had wrapped everything up regarding Geralt's story in the third game and its subsequent DLC expansion packs. So if they do decide to return to the story, they'll have to pull a Naughty Dog and focus on another character (or set of characters) for the new title... assuming it ever happens.
Right now CD Projekt Red is focused entirely on Cyberpunk 2077, the upcoming cyberpunk title based on Mike Pondsmith's Cyberpunk series. There's no release date on the sci-fi action thriller, but we'll likely learn more about it soon enough.
Staff Writer at CinemaBlend.
Your Daily Blend of Entertainment News
Thank you for signing up to CinemaBlend. You will receive a verification email shortly.
There was a problem. Please refresh the page and try again.