Why Conan O'Brien Loves The Witcher 3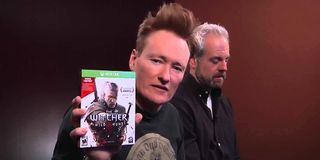 The Clueless Gamer segments on Conan have been extremely popular. They've obviously become more corporatized as time has gone on, but they're still a laugh riot. When asked what his favorite game was from the Clueless Gamer segments, Conan O'Brien was quick to call out The Witcher 3.
So why specifically The Witcher 3? Well, CD Projekt Red's open-world, hack-and-slash, action-RPG has a lot of lore, a lot of visual detail and graphical excellence, but it also has something else: a lot of sex and nudity. In an Ask Me Anything on Reddit, Conan was specifically asked what his favorite game was and why, and here's what he responded with...
I'm shocked he even remembered the game. He's not into games, he's not a gamer, and he makes that point known every single time he picks up a title. The funny part about it is that understanding game culture isn't really his interest, but more-so diving into these big franchises (and sometimes unique indie IPs like Minecraft and Outlast) as a cynical, old casual gamer. It usually makes for hilarious television.
In the specific case of The Witcher 3, the lore didn't interest Conan, the gameplay was rather difficult for him to get acquainted with, and he wasn't entirely motivated about the plot. However, when Yennefer, one of the love interests of Geralt, happens to make her way into the game, things really pick up.
During the Clueless Gamer segment, Conan got to experience Yennefer and Geralt making sweet, sweet love on a stuffed unicorn. It was one of many segments in The Witcher 3 featuring nudity, sex and Geralt baring his muscular, fit bum.
Conan jokes that if the game were ever made for VR people would never see him again. I don't think CD Projekt Red has any plans of going back and making The Witcher 3 compatible with VR headsets, but there are unofficial ways to get The Witcher 3 to work just fine with some VR headsets, along with some first-person mods so you'll get to see everything that Geralt gets to see.
One of the interesting things about the sex and nudity in The Witcher games is that, specifically for characters like Triss and Yennefer, they actually aren't how they appear to be. One of the themes of the game is that the sorceresses use their magic to beautify themselves, given that many of the prestigious and renown magic users are actually quite old. However, old age and battle scars are nothing that a little magic can't cure.
Given CD Projekt Red's history with making gorgeous games with highly attractive characters, I wonder if Conan will take a liking to their upcoming project, Cyberpunk 2077? Most people expect it to be The Witcher in the future. The game is still a ways off from release, but given Conan's mention about VR, it seems like it wouldn't be far off for CD Projekt Red to include a VR mode for a game based on futuristic technology. I suppose if the title ends up on Clueless Gamer we might not actually ever see Conan again.
Your Daily Blend of Entertainment News
Staff Writer at CinemaBlend.