The Big Problem Gamers Have With Modern Warfare Remastered's New DLC Map Pack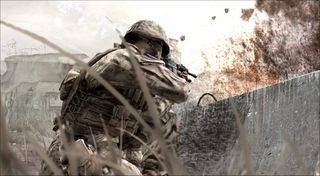 (Image credit: Activision)
The re-release of Call of Duty 4: Modern Warfare was one of the big things that helped lure in sales for Call of Duty: Infinite Warfare, but there appears to be a problem that gamers have with the DLC map pack that Activision released for the remastered version of the game.
According to Kotaku, the new map pack for Call of Duty: Modern Warfare Remastered is actually more expensive than when Activision originally released the DLC years ago.
The new DLC for the remastered game is priced at $15, something that a lot of people aren't fond of. Why? Because the remastered DLC is $5 more expensive than what the DLC was originally when it released on the Xbox 360, PS3 and PC back in 2008 for $10, as detailed on the Call of Duty Wikia page.
Keep in mind this is just a remaster, so the textures are higher resolution and the internal resolution has been bumped up for today's standards, but it's still the exact same game. This isn't a remake like Final Fantasy VII or the Halo anniversary games. This has left a lot of people questioning exactly what they're paying an extra $5 for?
Even more than that, you can't buy the remastered edition of Call of Duty 4: Modern Warfare without purchasing it as part of the bundle with Call of Duty: Infinite Warfare. So you have to pay an arm and a leg to get the remastered edition of the highly popular game, and then you have to pay even more for the DLC.
Some people claimed Activision was making a grave mistake and that they're throwing a lot of potential money away by not releasing Call of Duty: Modern Warfare Remastered as a standalone game. Others were angry that the remastered game doesn't contain all of the game's previously released DLC as part of the package. This instantly led people to compare the DLC practices by Activision with Nintendo's upcoming re-release of Mario Kart 8: Deluxe. They compared both re-releases and noticed that in Nintendo's case they added in all of the game's previously released DLC, added the new battle mode and improved the graphics. They then asked why Activision couldn't do this with Call of Duty: Modern Warfare Remastered?
Around the web, some gamers have simply advised the community to stick with the original release of Call of Duty 4 if you plan on getting the game on PC. The reason for this is that they note that the game supports mods and still has a strong player base.
Kotaku also noted that all these shenanigans that Activision has pulled have caused a tank in the player engagement. It's true. If you check Steam Spy there's a massive decline in average playtime distribution, down from a peak of 10.3% to just 0.11% amongst the remaining active players for the PC version of Call of Duty: Infinite Warfare.
It doesn't seem likely that player engagement will increase anytime soon if they continue to release overpriced DLC packs for a decade old game.
Staff Writer at CinemaBlend.
Your Daily Blend of Entertainment News
Thank you for signing up to CinemaBlend. You will receive a verification email shortly.
There was a problem. Please refresh the page and try again.