Battlefield One Update Adds Platoons And A Lot More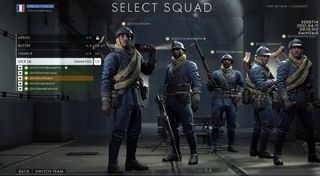 (Image credit: Electronic Arts)
DICE's most recent spring update for Battlefield 1 adds a ton of new content for the game, including lots of bug fixes, updates to the way the controls work, and even an all new Platoon feature. The update is absolutely massive, and it's bound to make die-hard fans happy.
The details on the new spring update for Battlefield 1 went live over on the official Battlefield website. They kick things off with the all new Platoons... this enables players to create a Platoon and assign a General to the role of running the Platoon. This allows players to name the Platoon, add a tag, describe it and choose an emblem for the group.
Platoons can be setup to be open, or you can have it setup where people will have to apply to join, or it can be closed so no one can join. This is essentially the equivalent of creating a guild in most other games. Players within Battlefield 1's Platoon can be assigned to roles and ranks, with General being at the top and Colonel being second in command. You can also assign Lieutenants and Privates within the Platoon as well.
In order to accommodate this new system, DICE set it up so that there's a new way to find and join games featuring Platoon members. Players aren't limited to being in just one Platoon. Players can be in up to 10 Platoons at one time, and each platoons can have a total of 100 members.
They've made it where medics now have a new "Revive Intent" feature, so that downed players in Battlefield 1 can see if a medic is coming to their aid, so they won't "Skip" to the respawn screen.
DICE also improved the server administration tools to give server administrators more control over maintaining their servers. They also added new variants to four of the weapons in the game, fixed a number of issues with various maps, and altered some of the tweaks with grenades and vehicle bugs.
Netcode improvements, UI updates, and control tweaks were also on the table.
There has been a lot of feedback for the developers to sift through given how many people actually play Battlefield 1, so they definitely try to work hard to get to as much of it as possible.
The game managed to steal a lot of the thunder from Call of Duty: Infinite Warfare after people became sci-fi fatigued from Call of Duty's over-reliance on the whole futuristic warfare themes. EA and DICE swooped in by announcing Battlefield 1, where they offered gamers a completely different take on the war genre, and it paid off big when it came to the game's marketing appeal toward gamers.
EA also tried cannibalizing the FPS market by releasing Titanfall 2 and Battlefield 1 just a week apart from each other -- both of which launched before Call of Duty: Infinite Warfare -- all in an attempt to steal the market share from Activision. It partially worked, and Call of Duty: Infinite Warfare saw a 50% drop in week-one sales, but the game still managed to come out on top as the best selling game of 2016.
Nevertheless, DICE has been resolved to fixing the issues with Battlefield 1 in hopes of keeping their player base happy and, hopefully, bringing in some new players as well.
Staff Writer at CinemaBlend.
Your Daily Blend of Entertainment News
Thank you for signing up to CinemaBlend. You will receive a verification email shortly.
There was a problem. Please refresh the page and try again.