This Is How Overwhelmingly Successful The Battlefield 1 Trailer Has Been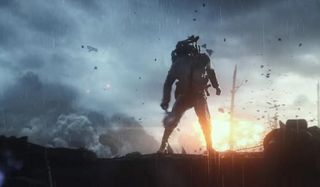 In the case of the recently revealed Battlefield 1 trailer, the numbers don't lie. Not only has the trailer been viewed about 20 million times, but it looks like FPS fans are really, really excited to return to the past for the next installment in the popular series.
If reaction to a trailer is any indication how a game will perform when it actually releases, then the folks over at EA might have something of a runaway success on their hands courtesy of Battlefield 1. After a bit of early teasing for the new trailer, EA and DICE finally pulled back the curtain on this year's installment in the FPS series, which will have players shooting their way through the trenches of World War I.
Over the course of just a few days, that reveal trailer has become the most-watched video in the entire Battlefield library, with 21,020,647 views as of this writing. Perhaps equally important, though, has been the reaction of viewers to the trailer. While Battlefield 1's first promotional video has netted 20,288 down votes on Youtube, it's pulled in an amazing 1,117,240 up votes. In other words, there are a whole bunch of people that are super excited to play this game when it finally launches this fall.
And if you've somehow missed what all of the hubbub is about, here's a gander at the trailer for Battlefield 1. Because, you know, they could totally use some extra views.
So, yeah, that's a pretty successful trailer. It turns out that combining a remix of "Seven Nation Army" with some frantic and varied WWI-era combat is a perfect concoction. While nothing has been confirmed yet, it looks like players will be doing quite a bit more than sticking to the trenches in Battlefield 1, with the trailer showing off plenty of action involving tanks, planes, zeppelins and even horses. While many historians might argue that World War I isn't the most "exciting" foray to focus a game on, it looks like that's all a matter of perspective. Spruce up the proceedings with plenty of explosions and insane gunplay and it looks like shooting fans have plenty to be excited about.
Of course, it's hard to talk about Battlefield 1 without also discussing Call of Duty: Infinite Warfare. Revealed just a couple of days before the new Battlefield, Infinity Ward's next shooter is heading the opposite direction in history, firmly rooted in combat of the future.
Fan reaction was as equally of the polar opposite variety. The Infinite Warfare trailer is up to about 15,000,000 views at this point, but fans are decidedly against the chosen direction of the game. With only 278,283 up votes as of this writing, the down votes are at 1.4 million.
Staff Writer for CinemaBlend.
Your Daily Blend of Entertainment News
Thank you for signing up to CinemaBlend. You will receive a verification email shortly.
There was a problem. Please refresh the page and try again.