How To Work Around Injustice 2's Save Bug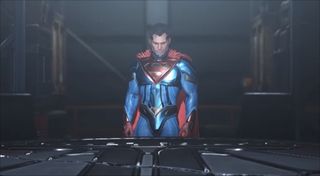 (Image credit: Warner Bros. Interactive Entertianment)
One of the surprise hits of May has been Injustice 2. The game is a heck of lot bigger and bolder than its predecessor, and that means there's more to do and more to unlock. However, some people are running into problems with saving their content as they unlock more stuff in the game due to a save bug.
According to Kotaku there's actually a way to work around the save bug in Injustice 2. While WB Games and NetherRealm Studios currently look into the problem and cook up a patch for PS4 and Xbox One owners, some players found a way to overcome the debilitating bug by clearing the cache.
The bug itself sees player progress being reset. Some gamers noted that their high level characters who were maxed out in gear and experience would only have half their level after booting the game up again. The bigger issue was that gear that was unlocked for higher level characters might still be equipped, but if you attempted to remove it and re-equip it, you couldn't because if a level 20 character was reset to level 10.
Understandably, a lot of gamers were frustrated at this turn of events and have been reaching out to customer support about the issue with Injustice 2, as well as discussing solutions via the forums and discussion threads.
When Kotaku contacted Warner Bros., about the issue they already had a contingency plan in place, offering some simple solutions to fix the problem.
Basically they were told to do a cold boot to clear the Injustice 2 cache from the Xbox One or PS4's memory. You can do this by holding down the power button and powering down the system so that it completely shuts down and then waiting half a minute and turning it back on. Alternatively, from the main home menu select to shut down the system and then wait half a minute and then boot it up again and your data should be properly restored.
A last ditch effort to clear the cache is to unplug the systems from the outlet, letting them completely power down and then booting them up again.
It's kind of funny that console gamers have to troubleshoot equivalent to what PC gamers have had to do in years past. What's also funny is that this issue on PC could usually be fixed by flushing the RAM and clearing the cache, without even having to reboot. Unfortunately, Injustice 2 isn't on PC, so you don't even get the benefit of experiencing whatever hiccups the game has during its launch week.
Speaking of PC gaming, hopefully Warner Bros. will eventually port the game over to PC at a later date. Maybe they're avoiding the potential risk of the port not working, like what happened with Mortal Kombat X and Batman: Arkham Knight and they're taking their time before announcing the game for Steam.
Anyway, NetherRealm is currently working on a fix for the issue now, and it will likely arrive in the next patch roll out for Injustice 2. In the meantime you'll simply have to follow the steps to clear the local cache on the PS4 or Xbox One if you notice that your profile is suffering rollbacks for some of the character progress.
Staff Writer at CinemaBlend.
Your Daily Blend of Entertainment News
Thank you for signing up to CinemaBlend. You will receive a verification email shortly.
There was a problem. Please refresh the page and try again.