Injustice 2 Is Bringing Wonder Woman's Movie Gear Into The Game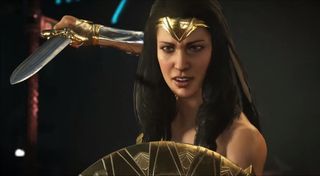 Whenever a superhero game launches these days, most fans beg the developers for a costume, outfits or gear from the character's movie. Well, fans didn't have to beg NetherRealm for too long about getting Gal Gadot's getup from the new Wonder Woman movie for an Injustice 2 skin.
The trailer was posted up over on the Injustice YouTube channel, where it rolls out a minute's worth of gameplay featuring two different outfits that players can utilize in both the mobile and console versions of Injustice 2.
Sadly, the face mesh for Wonder Woman isn't based on Gal Gadot, the star of the upcoming film that's due in theaters on June 2nd, but you do get her training garb and her full Wonder Woman heroic outfit to play around with.
The outfits are free for both the mobile version of Injustice 2 and the Xbox One and PS4 versions of the game.
For the console version, you'll have from May 29th up until June 5th to unlock her gear by playing through the Multiverse scenario "To End All Wars." Completing the scenario will enable you to unlock the movie outfits from Wonder Woman.
For the mobile version of Injustice 2 simply earn two of Wonder Woman's character cards that are based on the film to unlock her full gear set. As pointed out by Gamespot, the mobile version is free to play, so you don't have to commit to anything to unlock the Wonder Woman movie skin.
Of course, the comment section -- while fully excited about Wonder Woman's movie costume being made available -- couldn't help but veer the conversation back toward Batman: Arkham Knight, begging for more skins from Rocksteady's game, especially Scarecrow and Red Hood's Arkham Knight gear.
However the conversation eventually managed to get back on track and fans were excited to talk about the new skin, Wonder Woman's portrayal in the new game, and hopefully getting some extra skins for a few other DC favorites.
I was surprised to find that there are tons of DC fans for the CW shows who were asking for premiere skins from Arrow, Supergirl and The Flash. NetherRealm obliged CW fans in the past by giving them a Stephen Amell skin for Green Arrow in the original Injustice, so I don't see why they wouldn't do it again for the sequel. Heck, they could make some mean, mean, Nintendo-sized cash if they released a CW skin pack, just like what they're doing with this Wonder Woman set for Injustice 2.
Fans of the legendary warrior might want to work fast to get their hands on the new outfit before it becomes paid DLC. You can also check out the new Wonder Woman movie set to hit theaters this weekend on June 2nd.
Injustice 2 is available right now for the Xbox One and PS4.
Staff Writer at CinemaBlend.