CD Projekt Red Says Cyberpunk 2077 Files Are Being Held For Ransom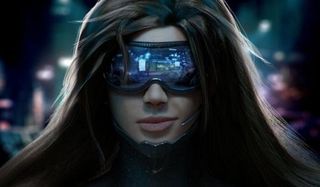 It appears CD Projekt Red has had some sensitive materials pertaining to Cyberpunk 2077 stolen and, in an unexpected turn of events, those responsible are holding said documents ransom.
In this modern age, it's pretty-dang-common to hear about a game developer being hacked or having information from a project leaked onto the internet. According to a recent tweet from CD Projekt Red, that's exactly what happened with their upcoming game, Cyberpunk 2077. Again, the wrinkle here is that the folks responsible for swiping the information want to give it back; for a price, of course.
Sadly, this is not a video game and CD Projekt Red cannot simply send Geralt out into the world to retrieve their pilfered goods. The tweeted press release states that a "demand for ransom has been made," explaining that if the developer does not comply with said demand, the files will be released for all to see.
It turns out the developers aren't too keen on the idea of giving in to these types of demands and have decided to give the culprits a much-deserved cold shoulder. To that end, the studio warns that there's a possibility that information pertaining to Cyberpunk 2077 will surface. The studio, of course, has already brought in the authorities to handle the matter.
So where do you come into play? Simply put, CD Projekt Red asks that you simply ignore any potential leaks in the coming months. Now that the team is done with The Witcher for the foreseeable future, it sounds like they're all hands on deck with Cyberpunk. In other words, they want folks to play and enjoy the game fresh, not have it spoiled for them in advance. However, the states that even if information does start to circulate, it's probably a bit out of date at this point in the development.
The letter closes by saying that information about the game is definitely coming, but not until the time is right. That makes it sound like official details are still a ways off, so we're not too certain we'll be seeing the game at E3 next week. Fingers crossed, though.
We definitely support CD Projekt Red in this one. For starters, it's not an easy call, but you probably don't want to ever give in to demands such as these. Secondly, it's a no-win situation for the culprits. When you're talking about digital files and whatnot, there's zero guarantee you'll come through on your end of the bargain and either deliver or destroy every copy of your stolen goods. We imagine the chances anyone would comply with that sort of scenario are pretty slim.
Staff Writer for CinemaBlend.
Your Daily Blend of Entertainment News
Thank you for signing up to CinemaBlend. You will receive a verification email shortly.
There was a problem. Please refresh the page and try again.