The Witcher 3: CD Projekt Red Releases Seven Minutes of Gameplay Video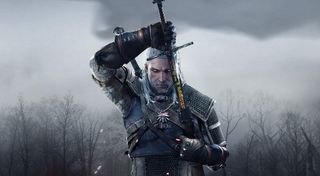 CD Projekt Red released a new gameplay video for The Witcher 3: Wild Hunt in light of the PAX East 2015 weekend event. They rolled out some brand new gameplay, some brand new footage of a never-before-seen quest, as well as how various oils and magic attacks can be utilized on the fly during battle. Check out the video below.
As noted by Gamespot, the video is narrated by CD Projekt Red's senior level designer Peter Gelencser, where he takes viewers through a very mission involving a side-quest about hunting down a Royal Wyvern.
The video starts off with Geralt running toward a town and quickly dispatching some wolves. He later talks to a man who directs him to an incident that occurred on the road where two travelers were attacked by a Royal Wyvern.
Players are tasked with tracking down and fighting the Wyvern, if they so choose. Quite naturally, and for the purpose of keeping the video intense, Geralt tracks down and fights the Wyvern.
I was kind of hoping the tracking process was a bit more thorough instead of just climbing up some rocks in a small cave and then meeting the Wyvern on the cliff's edge. It would have been slightly more epic if Geralt had to do a little bit of traveling to get there. However, that's just a minor nitpick on my end. I imagine there will be plenty of other side-quests in The Witcher 3 where traveling around to get to the quests will be a required part of the mission.
It just always bothers me when there are beautifully crafted 3D worlds and a lot of time, effort and money spent into getting artists to make those worlds and only like a small percentage of them are ever really discovered or explore because the mission and quest structures restrict players to fairly predefined and limited travel paths. I think Bethesda is known for doing a really great job with forcing exploration in their games and large variety of quests they offer in The Elder Scrolls. I oftentimes feel like Avalanche Studios with Just Cause and Rockstar with Grand Theft Auto kind of fail to really capitalize on the expanse of the game worlds and the exploration factor is only ever really indulged in to a great extent by modders and people goofing around.
Even still, I love the way The Witcher 3 is looking so far. The game appears like the kind of RPG where you could just sit back and watch someone else play and absorb all of the visual grandeur that the team put together at CD Projekt Red. I'd also like to see what some of the user mods look like for the game, post-release (beyond the obligatory nude patches, of course).
The Witcher 3 is scheduled to arrive for the Xbox One, PS4 and PC starting May 19th, 2015. You can learn more about the game by paying a kind visit to the official website.
Staff Writer at CinemaBlend.
Your Daily Blend of Entertainment News
Thank you for signing up to CinemaBlend. You will receive a verification email shortly.
There was a problem. Please refresh the page and try again.