The Super Nintendo World Theme Park Trailer Is Everything We Want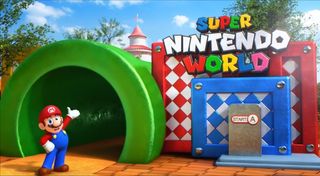 It's finally here! Nintendo and Universal Studios unveiled the first official trailer for the upcoming Super Nintendo World theme park, set to open in 2020 in Tokyo, Japan. The trailer is only 30 seconds long but it's just enough time to give fans, gamers, and theme park aficionados multiple reasons to be excited.
The 30 second teaser was posted up over on the official Universal Studios Japan YouTube channel, where it instantly became a trending video on YouTube.
It starts with a familiar Nintendo chime and then shows a 3D Mario run up past the Super Nintendo World entrance that has a "Start A" button beneath the logo. The actual entrance is the classic giant green pipe that's used throughout the Super Mario universe for the characters to travel between worlds. It's especially relevant here as a way to get park goers from one themed attraction to the next.
The pipe leads Mario (and viewers) to a central overworld hub. Here we get to see conceptually what Nintendo has in mind for Super Nintendo World as far as locations and attractions are concerned. We, unfortunately, don't get to see the full hub, but we do get to see a lot of verticality on display. The setup looks similar to Nintendo's own Nintendo Land for the Wii U, which was, ironically, a video game based on a Nintendo theme park. The animated tour is also identical to a poster that Nintendo had revealed not too long ago.
In the background we see Bowser's castle, along with a platforming segment that looks very similar to a map from Super Mario 3D World for the Wii U.
Mario makes another quick pass by Bowser's castle, giving the impression that maybe it's going to be some kind of a haunted house type experience.
After climbing to the top of the mountain with the flag, we get to see various shops and other attractions, presumably designed so visitors can grab up some cool souvenirs during their visit.
There's also a quick glimpse at what looks like some kind of ice palace area, which is situated next to Bowser's castle.
Unfortunately, the trailer doesn't show us much more than that, and it's basically just a tease for the park that's readying to open in 2020.
While the trailer is animated, it definitely gives viewers a hint as to what we can expect from the theme park.
Previously, we found out that Nintendo had filed a trademark for Super Nintendo World, including hinting at something we didn't see in the trailer: a go-kart ride. Obviously a lot of people would flock to a series of race tracks themed after Mario Kart, but Nintendo may be saving that for a later date.
I'm sure once construction is further underway and a few of the themes are completed we'll get an updated video to see what sort of progress has been made.
Your Daily Blend of Entertainment News
Staff Writer at CinemaBlend.