Another World Of Warcraft Fan Server Will Recreate A Classic Version Of The Game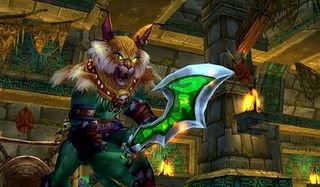 World of Warcraft has gone through a heap of changes over the past decade, but some longtime players still pine for the days when everyone was clamoring over that first major update, The Burning Crusade. If you count yourself in that number, you'll be happy to know that you'll soon be able to revisit those days in a brand new fan-made server.
The Felmyst server is set to go live on Friday, July 21, with the single goal of returning players to the World of Warcraft from yesteryear. As the folks over at Eurogamer point out, this isn't exactly a Blizzard-approved project from the developers at Gummy, so you'll want to dive in ASAP if you hope to take full advantage of the new (old) environment. If you'll recall, the Nostalrius server gained a lot of attention last year when it drew 800,000 players to a fan-made server set to recreate the original version of World of Warcraft. Blizzard had to step in and shut it down, though, which bummed out a lot of people. The tragic thing is that Blizzard doesn't offer legacy servers of their own, which is why old-school fans resort to creating these types of servers of their own. But since folks are messing with Blizzard's property on their own servers, it makes sense they would need to squash these kinds of projects before they get too out of hand. They don't want to be held responsible if something goes horribly wrong, after all.
Anyway, rather than taking WoW all the way back to vanilla, the Felmyst server will go just a little bit forward in time to the era of The Burning Crusade. If you're a long-time player, jumping on the server might be fun for experiencing a bit of nostalgia and a time when WoW was quite a bit simpler. For newer members of the community, we imagine it would be a pretty cool history lesson to get to play on a server that lets you know just how far the massive online game has come over the past 10 years.
We imagine Gummy had their work cut out for them when creating this new server. According to the initial report, they had to recreate environments, alter the ways enemies and bosses behave and completely rework all of the in-game systems. All of the quality of life adjustments from the past decade had to be removed, too, just to make sure Felmyst felt as close as possible to playing The Burning Crusade back when it first arrived. While we're sure some fans would argue those were the "best days" of WoW, they were also some of the roughest. Still, probably worth a visit just to see it all in action.
Staff Writer for CinemaBlend.
Your Daily Blend of Entertainment News
Thank you for signing up to CinemaBlend. You will receive a verification email shortly.
There was a problem. Please refresh the page and try again.