Dota 2 Is Getting Its Own Hearthstone-Like Card Game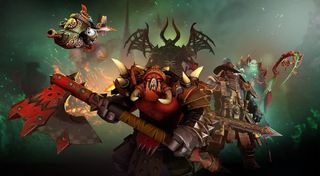 Digital card collectible games have really made a huge surge in the gaming industry lately, especially with the popularity of Magic The Gathering and Blizzard's Hearthstone. Speaking of which, Valve decided to get in on the action with a Dota 2-style card game called Artifact.
Polygon is reporting that during this year's The International, the eSports competition that sees the greatest players in the world facing off in Dota 2, Valve released some news about Artifact, the upcoming card combat game.
According to Polygon, the announcement was made public just before the final match of the second day, where it was explained by the tournament's host that the CCG would center around building up barracks, battling creeps, and maintaining lanes. The fact that it's a layered CCG set within a universe that features fantasy combat and some similarities to Dota 2, have, quite naturally, led a lot of people to draw comparisons to Blizzard Entertainment's Hearthstone.
It all makes sense really, especially given that it was Dota that Valve lifted from the foundations of a World of Warcraft mod (a game owned by Blizzard), and Dota 2 ended up becoming an absolute smash hit. Blizzard retaliated by creating Heroes of the Storm, a free-to-play MOBA that came about after the huge successes of League of Legends and Dota 2. And now Valve has witnessed how successful Hearthstone is, and decided to try its hand at the genre. It really does seem to be the mantra of competition breeding evolution playing out within the gaming sphere.
The announcement for Artifact came with a 34 second teaser trailer. There's no details or info revealed in the teaser, but it does give gamers a firsthand look at the logo and the game's icon. You can check it out below.
Reactions to the trailer have not been very positive, with a lot of gamers saying that since Dota is already based on the Warcraft motif, and Hearthstone is an offshoot of Warcraft, then Artifact would essentially be an offshoot of Hearthstone.
So why are people so angry about a possible Hearthstone CCG clone? Well, a lot of gamers were hoping that Valve would be investing in a little something-something called Half-Life 3.
Of course, we all know that Half-Life 3 is a pipe dream. More realistically a lot of people were actually hoping that Valve would be doing a major update for Team Fortress 2, or introducing something special for Counter-Strike: Global Offensive.
We have no idea what the actual gameplay is like and won't know until the release date draws nearer. The game actually isn't due to drop until 2018 so we'll be waiting a long while before Artifact finally releases. Hopefully we'll receive some new info or a decent trailer either by GamesCom or before 2017 concludes.
Staff Writer at CinemaBlend.
Your Daily Blend of Entertainment News
Thank you for signing up to CinemaBlend. You will receive a verification email shortly.
There was a problem. Please refresh the page and try again.