CD Projekt Red Celebrates 10 Years Of The Witcher With Awesome New Video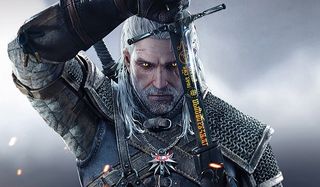 Hard to believe, but The Witcher has been a part of our gaming lives for a full decade. A video recounting those 10 years' worth of memories was recently posted online, and it's a pretty great way to briefly relive all of those epic adventures.
The above video comes to us from the developers at CD Projekt Red, who decided to chronicle the digital adventures of Geralt in a video shown just before a PAX West panel focused on the series' 10-year history.
The purpose of the video is to remind us that, "Time is fleeting, but memories are forever." Our whirlwind tour of The Witcher begins with "another sunny day" at Corvo Bianco in Toussaint. Garalt himself provides the voice over of a letter being read in the background as he reminisces about his adventures and the people he has met. We're treated to a scene in a pub, with characters from the various Witcher games enjoying their time together. Finally, the man himself steps out of the shadows and joins in the festivities, even going so far as to mention, "we play Qwent, drink wine" and more.
I won't reveal the cool moment that comes at the end when it is revealed who Geralt is narrating his message to; but suffice it to say that it's a pretty touching twist.
Back in 2007, the gaming world was first introduced to a character many fans of fantasy novels had already fallen in love with. Then, in 2011, The Witcher 2 brought Geralt back for even more adventures. The series hit legendary status in 2015, though, when The Witcher 3 won over gamers and critics alike with its impressive open world, side quests that mattered, memorable characters and more monsters to slay than you can shake a sword at.
The adventure didn't quite stop there, though, as the popular game within the game, Gwent, went on to become a game of its own, much to the delight of fans the world over.
The future of The Witcher is unclear at this point. The developers seem pretty content with the third chapter serving as a conclusion to the series, and we honestly can't blame them. On top of making an amazing RPG, they continued to show fantastic community support in the form of free updates before releasing some of the best for-pay DLC to ever grace a game. In other words, why not go out on top? We also imagine bringing an end to The Witcher would provide a nice change of pace to the developers who have been working so hard on it for more than a decade.
Either way, it's been a wild ride up to this point, and it's cool that CD Projekt Red decided to celebrate those past 10 years alongside their fans with a video basically guaranteed to make half of those people weep openly.
Staff Writer for CinemaBlend.
Your Daily Blend of Entertainment News
Thank you for signing up to CinemaBlend. You will receive a verification email shortly.
There was a problem. Please refresh the page and try again.