Settlers Of Catan Is Getting A VR Edition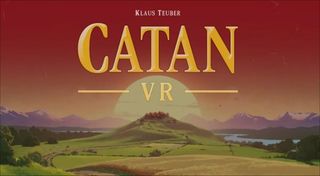 (Image credit: Experiment 7)
Developers Experiment 7 recently unveiled a new trailer for Catan VR. It's a virtual reality take on the classic old-school game made by Klaus Teuber. Working with Asmodee Digital, the upcoming title for VR headsets takes the original board game and updates it for today's generation of gaming for VR headsets.
The Catan VR project was first announced via the Experiment 7 YouTube channel, where the minute long introductory video explains what Teuber's motivations were for creating the board game in the first place. According to the game maker, he wanted to create a social game that brought people together, and he managed to do that across the series of board game titles over the year known as Catan.
The upcoming title will be available for the Samsung Gear VR and for the Oculus Rift. It's being funded in part by Facebook's Oculus Studio, which recently had an influx of funding set aside to help produce more exclusive Rift products for the VR headset.
Even though we don't actually get to see what Catan VR looks like, the description on the video page reveals that the project is due for release during the Holiday, 2017 season. So it's definitely a lot further along than some alpha or beta prototype. The game is centered around bringing the tabletop board game to life, allowing players to play against Catan personalities or going head-to-head in PvP with other players from around the world.
And don't worry, it mentions that this project is set to arrive for "other" VR headsets after the initial release on the Oculus Rift and Samsung's Gear VR. This likely means that it will likely launch for the HTC Vive for Steam VR and the PlayStation VR at some point in the future following the late 2017 release.
We don't get many VR board games for the headsets, so this is a unique opportunity to test the waters with casual gamers looking for something different from the typical shooting titles or story-oriented adventure games.
The only other major tabletop game I can think of for VR devices is Tabletop Simulator, which is more like a tabletop sandbox game than a traditional board game.
Even still, many of the top VR titles so far have been games like Arizona Sunshine or games like Job Simulator. So now that some studios are starting to experiment and branch out from the norm, we'll be able to see how unique and interesting new genres will be like in the marketplace.
There were no details about the pricing revealed for Catan VR yet, but it will likely come soon ahead of the game's release.
As mentioned, you can look for this new board game to launch this holiday season for the Oculus Rift and the Samsung Gear VR.
Your Daily Blend of Entertainment News
Staff Writer at CinemaBlend.