The PS4 Pro Update For The Witcher 3 Is Almost Here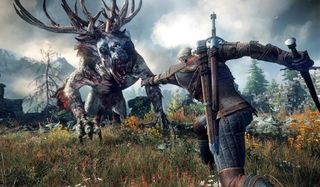 Despite the fact that The Witcher 3 is well over two years old at this point, the team at CD Projekt Red continues to support the game. In fact, they've announced that an update for the PlayStation 4 Pro is nearly ready to roll out.
Over on the CD Projekt blog, the team has posted video versions of its Q1 2017 financial results. They go over all of the expected highlights, including how well The Witcher 3 has done since launch, as well as the early reception of Gwent, a two-player digital card game (kinda) that's pulled directly from The Witcher series.
Looking ahead, the studio's biggest project that they're talking about involves enhancements to The Witcher 3 geared toward the latest hardware.
So if you've never played The Witcher 3 before and either have a PlayStation 4 Pro or plan on picking up an Xbox One X, then you might want to consider adding the game to your list of potential purchases. Witcher 3 won oodles of game of the year nods following its launch in 2015 and the studio received additional praise for how it supported the game post-launch, including free DLC for players and for-pay add-ons that were just as strong as the core game.
Obviously, CD Projekt Red isn't done supporting The Witcher 3 just yet, as they've been hard at work making the game look as good as possible for Sony and Microsoft's latest consoles. While there was no specific release date for the PS4 update, we figure "a few days" means you can probably expect it by no later than next week. The Xbox One X doesn't launch until November, however, and the announcement states fans can expect an update for that platform by the end of the year.
We figure that's a pretty nice way to send off The Witcher 3, which itself may be a sendoff for the series as a whole. CD Projekt Red has hinted at the series going to the way-back burner for the time being as they focus on other projects. Of course, that didn't stop them from making an emotional video celebrating the series' 10-year anniversary that was then played at PAX West.
And at this point, we say more power to them. They've poured so much love into The Witcher 3 at this point, who could begrudge the team wanting to work on something fresh for a change?
Your Daily Blend of Entertainment News
Staff Writer for CinemaBlend.