Why Nintendo Actually Made So Few NES Classics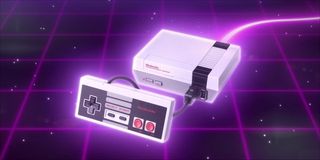 (Image credit: Nintendo)
There's an interesting story circulating about why Nintendo specifically didn't make more NES Classic Editions, the retro-style console that featured 30 of Nintendo's classic games on a mini-console. It turns out the reason why so few of the consoles were made had to deal with competitors' mini-consoles not selling all that well on the market.
According to the Financial Times [via Polygon] Reggie Fils-Aime, the president of Nintendo of America, explained that Nintendo decided to withhold production on the NES Classic Edition based on how other retro consoles have historically sold. Fils-Aime could be referencing those retro Atari and Sega Genesis consoles that are released almost every year to little fanfare and a lot of negative feedback.
However, it should be noted that, in the case of the Sega Genesis mini-console from AtGames, a lot of customer reviews and actual game review outlets panned the mini-consoles from AtGames over the years for releasing with a number of preventable bugs, poor menu navigation, and including various off-brand, homebrew ROMs in a collection of 80 highly touted games, which were packed into the bundle.
It's not entirely hard to see why Nintendo was reserved in manufacturing more units when, expectedly, the lower quality units out there from competitors set a precedent with consumers that made the company think that maybe gamers wouldn't be that interested in a retro console. Nintendo was terribly wrong, and the NES Classic was in demand a lot more than what the company could supply.
Nevertheless, this time around Nintendo isn't repeating the same mistake twice. The SNES Classic Edition will be thoroughly supplied for retail outlets and online. Fils-Aime also warned customers away from scalpers and eBay auctions with marked up price-points because he says that Nintendo will offer a much wider supply of units this time around and it won't be necessary to pay more than what's required to get your hands on the SNES Classic Edition.
One thing to keep in mind, though, is that Nintendo definitely puts quality above all else. The game maker ensures that its products are of the highest quality when rolling them out onto the market. It was Nintendo who originally had to save the whole gaming industry back in the 1980s after the crash. The company even applied strict QA control on third-parties and started issuing out the official "Nintendo Seal of Quality" to promise consumers that the product they were buying were properly checked, tested and assured to be of the utmost in quality.
Nintendo has carried through the tradition of ensuring that products release in tip top shape as often as possible. So, it's no wonder that a lot of people flocked to get their hands on the NES Classic Edition last year, and will likely flock to get their hands on the SNES Classic Edition.
Nevertheless, Nintendo is still facing another problem with the manufacturing line... this time with the Nintendo Switch. While supply for the SNES Classic Edition may be secured, the Switch has seen a number of hiccups due to a shortage of supplies. Hopefully, the company can get a handle on it this holiday season so that the Switch doesn't suffer from the same problems that the NES Classic Edition did last year.
Your Daily Blend of Entertainment News
Staff Writer at CinemaBlend.