New Nintendo Switch Controllers Look Great, But Are Short On Features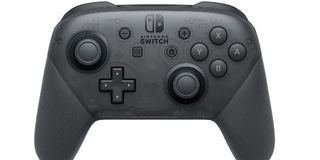 Nintendo Switch owners haven't had a lot of luck when it comes to controller options. A lot of times you're stuck with only Nintendo's official controllers. Except, now, there's a third party option that gives you some great looking designs at an affordable price, but you'll have to settle for a few less features.
Amazon has two new listings for some new controllers for the Nintendo Switch from Power A, one of which includes a Legend of Zelda controller and another controller based on Super Mario.
The highlight of both controllers is that they will be available starting October 23rd for only $29.99 each. Both controllers come with USB connectivity, so you could use it as a double for a PC controller. Another highlight is that the controllers come with six interchangeable analog caps, along with the standard layout containing dual analogs, four face buttons, a left and right bumper, and left and right triggers. The controller also contains four system buttons, including the plus and minus, the screen capture button and the home button.
Now the major drawback to the controller is that despite having a cool design mimicking the Nintendo Pro Controller, there is no HD rumble support, which means that you won't be able to use it for games where HD rumble is required such as 1-2-Switch.
The controllers also lack gyroscopic motion controls and accelerometer functionality. So if you were hoping to use the controls to play Mario Kart 8: Deluxe using the motion controls, you won't be able to.
Now, keep in mind that if you don't care about HD rumble, don't play games that need accelerometer functionality or gyroscopic features, then you probably won't mind missing them in the two controllers while getting them for half the price of the standard Nintendo Pro Controller.
Typically the Nintendo Switch hardware accessories are quite expensive. It's $60 for a Pro Controller and $80 for another pair of Joy-Con controllers. According to Nintendo the pair work as individual controllers, so you're getting two controllers priced at $40 each.
Nevertheless, the Legend of Zelda themed controller from Power A is all black with a swirled livery and a golden Tri-Force symbol at the top center of the controller. The digital pad is also gold, along with the lettering on the face buttons. An image of Link from Breath of the Wild is situated in the bottom right hand corner.
The Super Mario controller is a lot more simplistic, with a red color scheme featuring various iconography from the Mario universe, and a silhouette of the pudgy former-plumber in the bottom right hand corner. Stars, mushrooms and flowers are situated throughout the rest of the controller's design. It's obviously not as striking as the Legend of Zelda controller, but it's a nice alternative for those who would prefer something themed around Nintendo's most recognized brand.
You can pre-order both controllers right now for $29.99 each or you can wait until they officially launch on October 23rd to get your hands on them.
Your Daily Blend of Entertainment News
Staff Writer at CinemaBlend.