See Chris Redfield's Return In New Resident Evil 7 DLC Trailer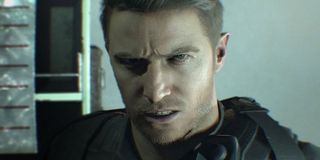 Chris Redfield is primed to square off against the undead once again with an upcoming appearance in Resident Evil 7. He'll be the focus of at least one of the next DLC chapters for the game, revealed in the latest trailer called TAPE-02 'Redfield'.
We've known that Chris Redfield would be popping up in Resident Evil 7 DLC for some time now, but Capcom has taken their sweet time bringing him to the latest zombie-bashing party. That's not actually a complaint. Earlier this year the developer basically said they were caught a bit off guard with the critical praise for the latest Resident Evil game and, in order to maintain that quality, they would be taking extra time to work on the game's DLC chapters.
Resident Evil 7's success can partially be attributed to the fact that it was a pretty huge departure from recent games in the series. The latest offerings were more focused on action sequences and goofy-as-hell plots rather than survival horror, which is what the series was founded on. Fans had become a bit disenchanted. Oh, and then there was that whole team-based third-person shooter called Umbrella Corps that nobody played because it was basically terrible.
So, everybody went into Resident Evil 7 with low expectations and Capcom ended up knocking it out of the park. The game was shifted into a controversial first-person view, which nobody seemed to mind once the scary-as-hell antics started to unfold.
Now that Capcom has set the bar high for the series once more, we're cautiously optimistic about journeying into the adventures of Chris Redfield in this fresh setting.
Since players will be taking on the role of a military badass this time around, it's not surprising that things seem to be leaning in a more action-heavy direction. Chris seems to have a decent arsenal of weapons at his disposal, and it looks like he'll be infiltrating yet another Umbrella facility. The plot details are scarce, though, so this is all based on what we know of the game and what it looks like Mr. Redfield will be up to in his next outing.
According to the trailer's description, the fate of Zoe Baker will also be revisited in the upcoming DLC. The packs are called "Not a Hero" and "End of Zoe," and they're both set to release on Dec. 12. If you haven't picked up the game just yet, they'll both be included in the upcoming "Gold Edition" of Resident Evil 7, which will release the same day on PS4, Xbox One and PC.
Your Daily Blend of Entertainment News
Staff Writer for CinemaBlend.