Valve's Gabe Newell Is One Of The Richest People In America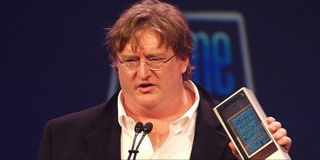 (Image credit: GDC/UBM)
A lot of people have a lot of love for Gabe Newell, the active president of Valve. However, gamers probably didn't know that he's one of the richest people in America. In fact, he might even be a lot richer than you may have thought and he's actually within the top 100 richest people in America.
According to Forbes, Gabe Newell is ranked at #97 out of Forbes' 400 richest in America list. Forbes has the acting president valued at $5.5 billion. The brief entry is also noted as having been updated as recent as October 20th, 2017, and is a real-time report of his net worth.
This ties into Forbes noting that Newell owns just over half the company, so Valve may be worth just over double the $5.5 billion.
It's amazing, but as companies like EA and Activision struggle to find ways to keep revenue steady and to explore opportunities to make brands profitable, Valve has focused mostly on catering to what gamers want (most of the time) with a consumer-friendly service and consumer-friendly functionality.
It wasn't all rose gardens and daffodils, though. Valve did have a rough patch when it came to the company fighting against refunds for the longest time. The company had come under heavy scrutiny from German consumer-rights organizations such as the VZVB and Australia's own ACCC for not offering refunds nor digital resale options.
The VZVB failed to get Valve to implement a resale option that would allow gamers to sell their digital titles to other gamers for a fixed or flexible price. However, The ACCC did manage to successfully sue Valve and force the company to implement a refund policy, which allows gamers to refund a game within two weeks of purchase or if they've played less than two hours of the game.
Beyond the refund issue, Valve mostly tries to stay out of the news for negative issues, save for the infamous paid mods fiasco that was egged on by Bethesda for Skyrim. For the most part, however, gamers enjoy what Valve rolls out, and Gabe Newell has almost achieved a mythical status within the gaming community.
Gamers have also been begging Newell and the crew at Valve for a new Half-Life game but it hasn't happened, and it likely never will at this rate. One of the writers on Half-Life 2 actually departed the company not too long ago and posted up the plot synopsis for what would have been Half-Life 2: Episode 3, which would have rounded out quite a few story arcs. However that story never came to fruition because Valve has an aversion to the number three.
It doesn't really matter, though, because Valve have become super successful by diversifying its portfolio, building out franchises like Team Fortress, Portal, and Dota. The company has also shifted away from regularly relying on pumping out new games regularly and has decided instead to focus on new technologies, such as SteamVR, the new Linux-based operating system SteamOS, and dabbling in hardware with the Steam Machines.
I'm sure Newell is still highly thankful he took the risk of leaving Microsoft back in the 1990s to start Valve and revolutionize the industry with Half-Life.
Your Daily Blend of Entertainment News
Staff Writer at CinemaBlend.