Which Games Have Halloween Content Coming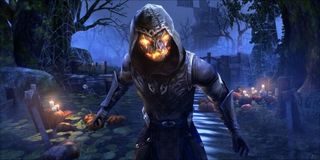 (Image credit: Bethesda)
A number of games have been or will be on the receiving end of some Halloween special events, updates, content patches and special treats. Some of these games have announced their Halloween specials well in advance, but others have only just recently made it known that they will be getting in on the frighteningly festive events.
Gamepost compiled a list of games that will be hosting special Halloween content this October. This includes games that have already made their intentions known to get in on the ghastly holiday goodies, such as Overwatch, which will bring back a PvE mode for players, along with giving gamers a couple of different skins to use for some of the characters on the roster. Overwatch will also allow gamers to experience two Halloween-themed maps during the event.
Joining Blizzard's hero-shooter Halloween event is Activision and Infinity Ward's Call of Duty: Infinite Warfare. The game will have a special Willard Wyler's Halloween Scream spectacular taking place, where each week players will be able to log into the game to get a special Halloween-themed supply drop that contains cosmetics and weapon skins based on the spooky holiday event. Double XP will be initiated, along with all gamers being able to freely experience Carnage from the Retribution DLC map pack up until November 1.
Bethesda's The Elder Scrolls Online will also receive a specially-themed event, where special loot will fall from boss monsters that contain recipes, along with pumpkin and scarecrow masks. Additional Halloween-themed items will also be available for purchase from the cash shop. This event is currently underway and will run up until November 1.
And speaking of MMOs, Final Fantasy XIV will also have an event featuring the Continental Circus, where you can unlock new werewolf heads and pumpkin items during the Halloween event. It's currently underway right now and will run up until November 1 in some regions and November 2 in others.
World of Warcraft will also get in on the Halloween action, featuring tricks and treats throughout Azeroth from October 18 to November 1. Smite will be a little bit more active about the events, giving gamers a new Arena Mode map and a new "scary" potion, along with a new Halloween chest being available in the cash shop that contains themed skins. This event started on October 16 and will run up until Hi-Rez Studios announces an end-date.
Psyonix's Halloween event for Rocket League will be a lot less ambiguous about things, with the Halloween event crates being available with special items contained therein. You'll only be able to open these chests using candy corn currency you can earn between now and November 7.
Pokemon Go will also have a special Halloween event that will run from October 20 to November 2, featuring all new Gen 3 ghost-type Pokemon, new cosmetic items and bonus candy drops.
Paragon's Halloween special will feature more of the same limited edition loot chests that contain special Shadow's Eve content and rewards, including Halloween-themed skins and banners that will be available between October 24 and November 11.
Additionally, Minecraft is getting in on the action, too. The event is currently running from now up until October 31, featuring a new haunted house parkour course, a new Haunted Mansion SkyWare map and a new Mineplex that features a new boss fight. Killing Floor 2 is taking a similar route, with a new map and new Halloween-themed nightmares to face off against. A couple of new weapons and limited-time cosmetics will also be available.
For Honor is doing things a little differently by having an "Endless March" mode where you face off against hordes of skeleton NPCs to unlock new gear and emotes. This will run up until November 2. Meanwhile, Gears of War 4 is offering new skins, a special playlist, a pumpkin head and a special mode called Phantom Dodgeball.
Guild Wars 2 is bringing back the old Shadow of the Mad King event, along with new weapon skins, new puzzles and new activities to partake in throughout the game world. Heroes of the Storm will have similar features in terms of new event-specific loot chests, new skins, new mounts, new sprays and new portraits, along with a special event called Hallow's End. Unlike the other events in other games, however, Heroes of the Storm's event will run all the way up until November 14.
And finally, Hearthstone has been running Halloween-themed events all month long and they will last up until November 5. The events include new Tavern Brawls, new heroes, a new card pack and special Arena events as well.
Your Daily Blend of Entertainment News
Staff Writer at CinemaBlend.