Sonic Forces Has Serious Problems On PC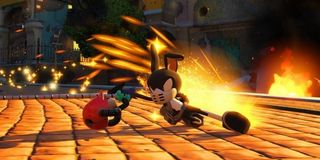 (Image credit: Sega)
Sega and Sonic Team's Sonic Forces recently made its way to PC, PS4, Xbox One and Nintendo Switch. A lot of gamers have had mixed reactions about the budget-priced entry, but one group of gamers have not been too kind to Sega's outing, and it's because Sonic Forces has some serious problems on PC.
Game Informer is reporting that there's a smorgasbord of issues popping up for PC gamers, including a rather nasty bug where the game continues to crash when you attempt to play through the third stage. The issue reportedly got big and bad enough to attract the attention of the popular Sonic sub-Reddits, and eventually the developers hopped on it to fix the crash.
All's well that ends well, right? Wrong.
Apparently, other stability related issues popped up soon after, where gamers discovered frame stuttering and the only way to fix it was to set Steam into offline mode. Additionally, gamers had to skip cutscenes altogether in order to avoid some performance debilitating glitches that hampered the Sonic Forces experience.
The Steam user reviews are currently mixed, with over 700 reviews filed and almost half of them being negative. The interesting thing is that after the patch was released to address the crashing issue, a lot of gamers are still giving the game a thumbs down for reasons not related to performance, namely that the game is way too short, the custom player-character isn't really that distinguishable from Sonic other than being slower, and that there isn't enough variety in play-styles with the gameplay.
Despite some of the reviews still being negative even after the patch was issued, it hasn't completely absolved the issue of performance.
Over on the Steam forums you'll find plenty of gamers listing their PC specs and noting that Sonic Forces still has stuttering issues.
Some believe that this is due to DRM issues, as it was noted that Denuvo is causing serious problems for some people, which is why they opted to play it in offline mode.
The interesting thing about it is that almost every single game that releases on PC with Denuvo's DRM has massive performance issues. Other games had the exact same problem when released on PC with Denuvo's DRM, such as RiME and Sonic Mania.
In fact, the issue is being exacerbated quite a bit because of Sonic Mania. The 2D game -- other than the Denuvo issue -- was pretty much the perfect Sonic game, and since it just recently came out at the end of the summer, a lot of gamers are comparing Sonic Forces to Sonic Mania and trying to figure out how Sega went so far off the rails with the performance and bugs for the PC release of Sonic Forces?
Expect a few more hotfixes to address whatever remaining bugs gamers encounter, but it will require a lot more than performance patches to address the other complaints gamers have about the game. Meanwhile, you can pick up a digital or physical copy of Sonic Forces for PC, PS4, Xbox One or the Nintendo Switch.
Your Daily Blend of Entertainment News
Staff Writer at CinemaBlend.