Black Friday Xbox Deals Are Already Here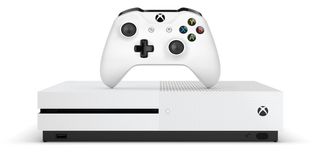 (Image credit: Microsoft)
Microsoft started the Black Friday deals a week earlier than the actual Black Friday. The deals are for a majority of Xbox One games, some Xbox 360 games, and even a few of the apps that are available for the Xbox family of games.
Gamespot actually listed all of the deals for the Xbox systems. Majority of the Xbox 360 games discounted are those with backwards compatibility including Alan Wake's American Nightmare for only $2.49, critically acclaimed action titles like BioShock and BioShock 2 for only $5, and _BioShock Infinite for $7.49. _
Fallout 3 and Fallout: New Vegas are both available for under $5, along with the four Gears of War games from the Xbox 360 era. Under-appreciated classics like Lost Odyssey and Metal Gear Rising: Revengeance are also both available for under $10. There are less than 20 games available for the Xbox 360 that are currently discounted for Black Friday. Even still, if you missed out on any of the games during their availability on the 360 a decade ago.
The Xbox One has far more games available for purchase form the Xbox store. As noted in the list of games by Gamespot, the prices range from being as cheap as $2.25 for games like Defense Grid 2, and they go all the way up to $90 for games like Call of Duty: WWII Deluxe Edition.
In between, there are a number of high profile games to pick up for a discounted price, including Call of Duty: Infinite Warfare Legacy Edition for only $48, along with other shooters like Borderlands: The Handsome Collection for only $19.80. While you can purchase each of the BioShock games separately at discounted prices for the Xbox 360 and use them as backwards compatible titles, you can instead get all of the games together in the BioShock: Collection for $19.80.
If you're looking for a zombie survival game, the Dead Rising 4 collection is discounted, along with Dying Light and Resident Evil 7, which is marked down by $30.
Even new games like South Park: The Fractured But Whole _are discounted as well, with a $20 slash on the game where it's marked down to $40. Bethesda and MachineGames' _Wolfenstein II: The New Colossus is also slashed in price even though it just came out. If you need to catch up on the game's story before you dive into the second game, there's a cut on the price for the two prequels, Wolfenstein: The New Order and Wolfenstein: The Old Blood, both of which are available for $10.
If you're into fighting games those are also available, including Namco's Tekken 7, which is available in two different version, the standard one for $36 and the deluxe edition for $51.
Not only are the games available with special Black Friday deals, but you can also pick up the Xbox Game Pass as well for only $1 for the first month, along with a couple of headsets.
If you also need to play online there's an Xbox Live Gold deal available for only $10, giving you three months worth of Xbox Live Gold.
Staff Writer at CinemaBlend.
Your Daily Blend of Entertainment News
Thank you for signing up to CinemaBlend. You will receive a verification email shortly.
There was a problem. Please refresh the page and try again.