Murder On The Orient Express Is Becoming A Real Life Escape Room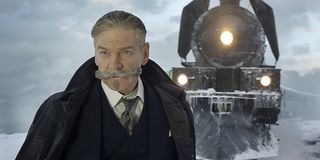 Escape rooms are becoming more and more popular, with designers frequently pairing inspiration from outside sources with their own creative puzzles to create some unique experiences. Next stop, Murder on the Orient Express, and it's shaping up to be an extremely intricate, and lengthy, endeavor.
Taking part in this particular escape room is going to be a rather pricey experience for most of our readers. We aren't sure how much the experience itself will cost but, since it's only happening in Finland at the moment, you're going to need to go a pretty long way to join in on the fun.
Still, your efforts will likely be worth it, as the escape room takes place on an actual train, that's actually moving, over the course of a 13-hour experience. Participants will be filling in for legendary detective Hercule Poirot, doing their best to solve a murder mystery that unrolls while the train speeds down the tracks.
As you might have guessed, this is being done as a tie-in with the new version of the film, Murder on the Orient Express. No spoilers here but, in order to keep things interesting, we doubt that the result of the murder mystery on the escape room train will be the same.
As noted above, these types of escape room pairings have happened before, including video game properties such as Silent Hill, Resident Evil, The Legend of Zelda and, most appropriately, Zero Escape.
The Orient Express escape train will run on Dec. 13, kicking off in Helsinki and rolling all the way to Rovaniemi, the capital of Lapland, Finland. This is probably the "longest-running" escape room in history, as most can be completed within a few hours. Our minds are kind of reeling trying to figure out how they're going to keep the game going for 13 straight hours, but we figure it's going to be a very memorable experience for all parties involved. Also, based on the design notes, it sounds like the experience will be something like a traditional escape room scenario, though we wouldn't be surprised if live actors were incorporated to help build the narrative.
This latest escape room is designed and built by InsideOut Escape Games, who have apparently been making a name for themselves on the Finnish escape scene for a while now. The game itself will utilize two cars, with 12 cabins to be explored and worked through in order to solve the ultimate mystery. It sounds like the experience will also be streamed online, with the viewing audience getting to have some sort of impact on how things unfold.
So what do you think, readers? Is this a sort of "real-world video game" you would want to take a stab at?
Staff Writer for CinemaBlend.
Your Daily Blend of Entertainment News
Thank you for signing up to CinemaBlend. You will receive a verification email shortly.
There was a problem. Please refresh the page and try again.