Dragon Ball FighterZ Is Getting An Open Beta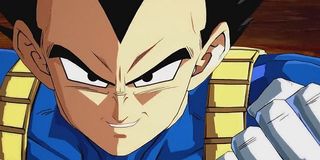 If you were hoping to take Dragon Ball FighterZ for a spin before its Jan. 26 launch date, then Bandai Namco is here to make your holiday season a little brighter. Another beta is set to begin in early 2018, giving the developer some extra time to test the servers before the full launch.
If you missed out on the first beta for DBFZ or simply want to spend a little more time with the game before its full launch, then you'll want to mark your calendar for mid-January. As Gamespot is reporting, Bandai Namco has revealed a second testing phase is on the way, with those who pre-order the game getting in the door a little earlier than the rest of the crowd. Whether you're gaming on the PlayStation 4 or Xbox One, the beta will take place during the same windows. Again, it's an open beta this time around, so anyone can get in on the fun beginning Jan. 14.
The announced start time for the new beta is 12 a.m. PT, and the event will run through the same time on Jan. 16. Yes, that's only a couple of days but, by that point, you're only 10 days out from the full launch. Also, you're more likely to give those servers a real test if you try to cram everyone into a smaller window. That could always make for a spotty beta, but that usually equates to a better final product.
If, however, you'd like a bit more time with Dragon Ball FighterZ's second beta, then you'll want to pre-order the game either digitally, or snag a reservation for the physical copy. If you do that, then you'll be able to jump into the testing phase at 12 a.m. PT beginning Jan. 13. That's only one extra day but, without the unwashed masses flooding in, that might be your best time to get in some matches.
If you're wondering why everyone is going gaga for DBFZ, there are a couple of reasons. While Xenoverse has been fun, this is the first proper 2D Dragon Ball fighting game on consoles in quite some time. Also, it's coming from Arc System Works, who make fantastic fighting games like BlazBlue and Guilty Gear. Finally, everyone who has played the game in an early form so far seems to be in love with it.
We're not clear yet on what characters or modes will be playable in the beta, but the full game is sounding pretty impressive. A roster of 24 fighters has been announced so far and, this being the modern age of gaming, you can expect another six to pop up through a DLC season pass. The roster includes characters from all corners of the Dragon Ball universe, including the currently airing Dragon Ball Super.
Your Daily Blend of Entertainment News
Staff Writer for CinemaBlend.