The Incredibles May Be Pixar's First LEGO Game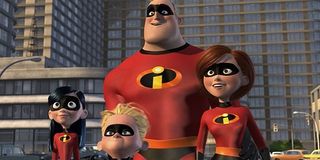 While plenty of folks are excited to see The Incredibles 2 when it hits theaters this summer, it looks like Pixar's power-packed family will be visiting the small screen this year, too. Based on the latest rumors, the series is also due for a LEGO game treatment.
Over the past decade or so, LEGO games have turned just about every property under the sun into a fast, frantic and fun gaming experience. Standalone romps include Harry Potter, Lord of the Rings, Star Wars and Pirates of the Caribbean, while LEGO Dimensions brought together everything from Mission: Impossible and Scooby Doo to Beetlejuice and Teen Titans. This year, though, it looks like it's Pixar's time to shine.
The Incredibles 2 is set to hit theaters this June, accompanied by its very own collection of LEGO playsets. But based on a rumor first reported by Comicbook.com and semi-confirmed by Eurogamer, it looks like a LEGO game is in the lineup, too. The original source cited folks close to the project as confirmation while Eurogamer got similar nods from their own sources upon follow-up.
According to what little info is circulating right now, the game is being developed by TT Games, and the plot of The Incredibles will run through both of the Pixar films. That's pretty exciting news, as the film's cast of characters all have some cool abilities we imagine will be fun to play around with in a video game world. Also, it'll just be cool to finally play a Pixar game given the LEGO treatment. The developers apparently feel the same way, as the report includes the fact that other Pixar films will be referenced in The Incredibles LEGO game.
Still, this isn't the only block-related rumor to come out of TT Games in the past 24 hours. The same report states that a game based on DC super villains is also in the works. Since the studio has focused on both Marvel and DC superheroes in the past, we're actually pretty jazzed about a game that focuses on the baddies instead. Again, no details have been confirmed by the developer just yet, but we imagine this would go over really well with LEGO fans. We also can't help but wonder if there is, perhaps, a similarly-themed movie in development at the same time. Everyone seemed to love The LEGO Batman Movie, so we figure a sort of Anti-Justice-League film set in the LEGO universe would be a big hit.
But, as is always the case with these types of things, we feel the need to reiterate that this is all just a rumor at the moment. Sure, it sounds like a pretty likely rumor with two sources offering their own light confirmation, but we'll keep a grain of salt handy until those at TT Games break their silence.
Staff Writer for CinemaBlend.
Your Daily Blend of Entertainment News
Thank you for signing up to CinemaBlend. You will receive a verification email shortly.
There was a problem. Please refresh the page and try again.