Harry Potter: Hogwarts Mystery Trailer Gives Us Our First Look At Wizarding World RPG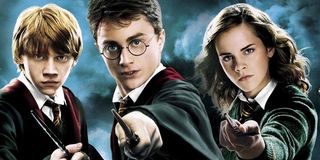 If you've ever dreamed of being an up-and-coming wizard attending Hogwarts School of Witchcraft and Wizardry, you'll soon get the chance to do exactly that. Jam City today released the first trailer for the upcoming mobile game, Harry Potter: Hogwarts Mystery, which you'll be able to play later this year.
If you want to be in the know the moment Hogwarts Mystery goes live, you'll probably want to pre-register for the game by visiting the official website. Just drop in your email address, hit "submit" and you'll be added to the official list. The game is noted as an official part of the Harry Potter universe, and it'll be playable on both Android and iOS.
We're pretty surprised that it's taken this long for a game to be set in the HP universe that lets the player explore their own tale. Noteworthy characters from the beloved book and movie series will make an appearance, including a cast of teachers fans will immediately recognize.
The idea here is that the player finally receives their owl from Hogwarts and gets ready to head off to their first year at the school. Hogwarts Mystery is considered a roleplaying game, though it looks like much of it will play out like a visual novel. That's not a bad thing, just an observation we figured would be worth noting in case any of our readers were expecting a match-three gem-breaker or, like, a battle game where you collect and upgrade monsters. Also, this shouldn't be confused with the Harry Potter game coming from Niantic, which will use augmented reality in a way similar to their other huge mobile hit, Pokemon Go.
In Hogwarts Mystery, you'll create your own character, attend classes, learn various magical skills and form your own friendships and rivalries around school. Along the way, you'll make decisions that have an impact on your character's story.
The game is being developed under the banner of Warner Bros. Interactive Entertainment's Portkey Games, which is specifically focused on games taking place in the Wizarding World of Harry Potter. In other words, we wouldn't be surprised to see even more games pop up somewhere down the line, as the property continues to be popular thanks to a stellar stage play and the ongoing Fantastic Beasts film franchise.
While the launch date is currently set for a spring window, folks attending the upcoming "A Celebration of Harry Potter" at Universal Studios in Orlando, Florida, from Jan. 26-28 will have an opportunity to go hands-on with the game. Attendees can also expect a couple of panels tied to the game, swag and the like.
And for you lore hounds in the audience, the game is actually set before Harry Potter turns up at Hogwarts. Both Nymphadora Tonks and Bill Weasley are students during this time-frame, so we imagine they'll play a part in the narrative.
Staff Writer for CinemaBlend.
Your Daily Blend of Entertainment News
Thank you for signing up to CinemaBlend. You will receive a verification email shortly.
There was a problem. Please refresh the page and try again.