What's Going On With Nintendo's Theme Park At Universal Studios?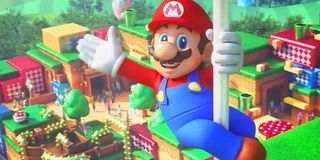 It looks like plans for the Super Mario World Universal Studios attraction might be changing, with the latest rumors shifting the main destination to a new location.
Over at Theme Park University, via Attraction Magazine, they're reporting that no activity has taken place with the planned Universal Studios Florida attraction themed after various Nintendo properties, which could mean that the attraction is undergoing some significant changes.
For starters, rumors have started circulating that the USF location is no longer planned to be the central hub for the U.S. version of the Nintendo-themed attraction. That doesn't mean that the Florida location won't receive a Nintendo world, just that it might no longer be considered the prime destination for Mario and his pals.
The reasoning behind this makes a heck of a lot of sense. Based on the report, outside of some general retooling of the park around where Super Mario World was supposed to be under construction at the end of 2017, no actual progress has been made at the Universal Studios Florida location. Apparently, that's because the involved parties are considering moving the main attraction to an upcoming new park for Universal Studios.
So, why is that important? Because if it's planned in the initial stages of the park, it can be built with future expansions already in the blueprint. The Florida campus operates on a limited amount of space, which means that a Nintendo-themed attraction would only have so much room to grow in the coming years. If Universal Studios makes Super Mario World a key component of their next park, it can be designed with plenty of room left to expand.
Still, as the initial report points out, that doesn't mean that the Florida park, or other Universal Studios locations, won't be getting Nintendo-themed attractions. It's likely that the Florida location will still move forward with Super Mario World plans, but maybe not based on the original designs. Another benefit of opening Nintendo sections at multiple parks is that they could create a destination draw for dedicated fans. In other words, while the main attraction at the new Universal Studios location will likely feature a central hub based on Super Mario Bros, it could break off into wings dedicated to, say, Kirby, Yoshi and Zelda. The Orlando park could then have a similar hub world, but with nodes dedicated to Donkey Kong and Pokemon. Yet another destination could focus on Pikmin and Mario Kart.
These are only examples and everything here should be taken as a rumor at this point, but the original sources seem pretty convinced that an alteration is in the works. Couple this with the recently announced Super Mario Bros. animated film, and it's pretty clear that Nintendo and Universal Studios are looking to grow their relationship by leaps and bounds.
Staff Writer for CinemaBlend.
Your Daily Blend of Entertainment News
Thank you for signing up to CinemaBlend. You will receive a verification email shortly.
There was a problem. Please refresh the page and try again.