Now You Can Earn In Game Items For Watching The Overwatch League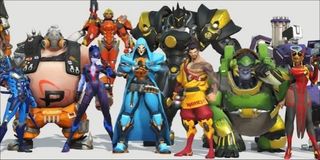 (Image credit: Blizzard)
What's better than watching your favorite game? How about earning free stuff in the game just for watching it? That seems to be the gist behind a new initiative from Blizzard that will help to lure in gamers to watch the Overwatch League on streaming services.
Game Informer is reporting that it's possible to earn skins, emotes, and stickers just for watching games on Twitch. According to the article, with the second stage of the Overwatch League getting into full gear, there's the added benefit of earning virtual League Tokens for those who tune in. These League Tokens can be turned in for in-game rewards. This new program from Twitch is an experiment that the company might be using with more games in the future if it all works out with Blizzard's competitive shooter.
You'll first have to make use of the Overwatch League's new "Cheering" feature, which rewards players for cheering with a virtual Bits item that can be used during the live-streams. As you use the Bits you can begin to unlock limited League items, such as team hero skins, emotes and team-branded items. Bits are acquired and can only be used in conjunction with affiliates and partners, in addition to purchasing the Bits with real money.
Interestingly enough, you can buy 1000 bits for $10 even, or purchase 100 bits for $1.40. The $10 offering is a special first-time buyers option with a 27% off discount. Regularly the 1500 bits go for $19.95, while the upper end of the Twitch currency goes for $308 if you want 25000 Bits.
You can expend these Bits by cheering. You simply type in the cheer message into the chat and you'll cheer for the designated team. The more Bits you use to cheer, the more you'll support Twitch, the affiliates, and your Overwatch League team.
As a reward for cheering on your team, you'll unlock League Tokens that can then be used to purchase items and unlock limited time gear in the actual Overwatch game.
Of course, if you don't want to spend real money just to unlock in-game items via cheering in Twitch, you can also earn one League Token just for watching a single match. Randomly, Twitch will also give out 100 Tokens for those watching Overwatch League matches. So there's an incentive to just watching the streams on Twitch
You'll also need a Battle.net account that you'll need to link to your Twitch, MLG.com and the OverwatchLeague.com channel. Keep in mind that linking your account with the social services also means that your behavior in Overwatch will be monitored and linked to your behavior on those social media services, so avoid being toxic in the Twitch chat or comments, otherwise Blizzard may take action against your account.
Don't be surprised if people buy a bunch of Bits and then spam chat with cheers to earn League Tokens in order to acquire the rare League skins, emotes and sprays in Overwatch. Blizzard also has other plans in the pipeline to bring in more viewers to the League games on Twitch.
Your Daily Blend of Entertainment News
Staff Writer at CinemaBlend.