H1Z1 Has Gone Free-To-Play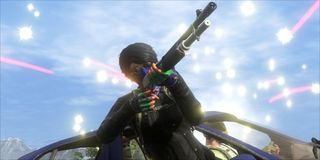 (Image credit: Daybreak Game Company)
Daybreak Game Company announced that H1Z1 is now free-to-play. Yes, after spending years in Early Access and improving the core gameplay concepts and adding new modes, the developers announced that instead of having to pay to access the zombie survival game, you'll be able to download the client and boot it up for free.
According to Polygon, the game was recently converted over to a free-to-play title just a week after it graduated from Early Access. Originally, the game launched at $19.99 on February 28th, but now it's free to access by any and everyone.
This obviously perturbed some gamers who were disappointed in the fact that they had just paid $20 for the game and now it's free-to-play. On the upside, Daybreak Game Company's general manager, Anthony Castoro, noted that the studio is acknowledging refunds and that if gamers are upset about having paid $20 for H1Z1 now that it's free-to-play, it's possible to get your money back. However, you'll still have to abide by the Steam refund rules, which dictates that you have to have purchased the game within 14 days and that you cannot have played more than two hours worth of gameplay. If you meet those requirements then you can get a refund.
However, if you decide to stick with the $19.99 package, and not get a refund, Daybreak Game Company is rewarding loyal gamers with skin packs and in-game items priced between $30 and $50.
According to Polygon, Castoro revealed that the reason for H1Z1 going free-to-play was to court more gamers and build up the game's eSports league.
This actually isn't a bad plan, given that Epic Games did the same thing with Fortnite, bringing in a ton of more casual gamers once the Battle Royale mode went free-to-play. Epic was able to accrue more than 30 million players from the summer of 2017 to the beginning of 2018, reviving the loot-and-build shooter after it had a slow restart when it launched for home consoles and PC.
The eSports aspect is also important because it's a market sector that many big publishers are pursuing at the moment. Blizzard has invested big money into the Overwatch League and other companies like Valve and Riot have also invested plenty into building up the eSports leagues based around games like Dota 2 and League of Legends. Capcom also invested quite a bit into getting Street Fighter V out there to the masses through the fighting game community and the local tournaments.
Daybreak Game Company will be supporting the H1Z1 Pro League, which will get underway on April 21st. Allowing to the game to go free-to-play means more people will potentially participate in the eSports leagues and maybe help raise the profile of the game in the electronic sports sector.
H1Z1 originally came onto the scene back in early 2015 as an alternative to Rust and DayZ, but it has now turned into its own branch that combines survival elements with the Battle Royale genre. You can play the game right now... for free.
Your Daily Blend of Entertainment News
Staff Writer at CinemaBlend.