Here's What's New In Dota 2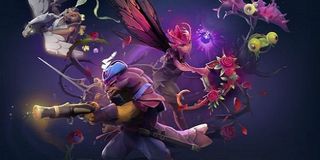 Valve announced a while back that quite a few changes would be coming to its free-to-play MOBA, Dota 2. It looks like most of those changes are packed into Update 7.07, which is available right now and includes everything from new heroes to numerous tweaks to in-game systems.
Dota 2 just received its big update for the year, called Dueling Fates. We learned a bit about this update recently when Valve announced a pair of new heroes would be coming to the game. They're joined by big updates for five other heroes, as well as some tweaks to existing systems and all new elements that should keep players coming back for more.
If you have Dota 2, you can update to 7.07 right now and start enjoying all of the new content. The biggest piece of that pie is obviously the two new heroes everyone will get to add to their roster, including the swashbuckling armadillo, Pangolier, and tricksy pixie, Dark Willow. The former relies on maneuverability, rad sword abilities and some charge attacks, while the latter is all about firing off spells and controlling the flow of battle from a distance.
On top of that, some new emblems have been added into Dota 2, as well as the much more exciting introduction of ranked season play. Players will be able to rank up and earn medals through each season, which then feeds into the next season's seeding and things like in-game rewards. The first season is set to go live in just two weeks.
If you're looking for other ways to pass the time until the season starts, you can check out the new guide system to learn more about the game and its heroes, or even play the insanely fast Turbo Mode.
An update has also been added to the ability draft mode, including the option to swap your hotkey order and chat with teammates while drafting abilities.
For those who thought Kaldr needed a visual upgrade, the ancient apparition has received a bit of a remodel in this update. The ping wheel has also been given new functionality, and players in the market for some new commentary can check out the Bladeform Legacy voice pack.
And those are only the most noticeable changes you'll see the next time you boot up Dota 2. For a full rundown of all the little tweaks being made to gameplay, you'll probably want to take a gander at the exhaustive changelog provided on the official website.
Staff Writer for CinemaBlend.
Your Daily Blend of Entertainment News
Thank you for signing up to CinemaBlend. You will receive a verification email shortly.
There was a problem. Please refresh the page and try again.