Firewatch Is Coming To Nintendo Switch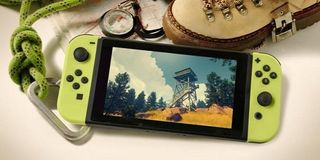 Yet another indie hit is making its way to the Nintendo Switch, with the crew at Campo Santo announcing Firewatch for the portable/home console hybrid.
The announcement went live through the Campo Santo website heading into the weekend, where the above image was used to reveal the Firewatch's impending arrival on the Nintendo Switch.
The announcement's headline boasts a 2018 launch window but, a bit further down, Campo Santo reveals that fans can narrow in their focus to a "spring" timeframe. For those who have trouble keeping up with the changing of the seasons, it is currently spring. In other words, expect Firewatch on the Switch in the not-too-distant future. Since Firewatch is all about experiencing the great outdoors, we think it's pretty cool that folks will be able to actually play the game while visiting the actual great outdoors. Or, you know, you can just play it from your couch if you feel like avoiding sunlight.
The game is set in 1989 and the player takes on the role of a forest ranger hanging out in the Wyoming wilderness. Your job is pretty simple at first: Keep an eye out for fires. The only thing to keep you company is your supervisor, Delilah, who will serve as a sort of lifeline once you have to leave your watchtower and venture into the wilderness alone. What will you come across out there? What will you learn about the world and yourself? You'll just have to play Firewatch to find out.
The announcement includes a field for excited fans to input their email address so you can be notified as soon as an official launch date is revealed. Otherwise, you could always sit tight and just wait for the news to roll out across the internet as soon as Campo Santo makes things official.
While a lot of games making their way to the Switch from other platforms are getting additional features courtesy of the new hardware, Campo Santo has not yet announced any such alterations to Firewatch. But hey, even if we're talking about just a straight port here, Firewatch is a solid fit for the Switch. Still, wouldn't it be cool to hold the two Joy-Con controllers up to activate your binoculars, twist a controller to turn on a radio and things like that?
With Firewatch making its way to Switch, that makes yet another indie darling joining Nintendo's already impressive roster. Still, you can't please everybody. Some folks seem to be frustrated with the number of ports launching for the console, which is baffling to us. There aren't a limited number of games allowed to launch for the console, so a bunch of rad indie and AAA games from yesteryear launching on the Switch does not mean an exclusive new game has been left out in the cold.
Your Daily Blend of Entertainment News
Staff Writer for CinemaBlend.