Dwayne Johnson Is Hosting A Massive HQ Trivia Game This Week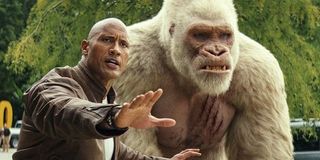 One of this week's HQ quiz shows is going to rock, by which we mean Dwayne "The Rock" Johnson is going to be hosting. And even if you aren't interested in hugely successful wrestlers turned hugely successful movie stars, you'll probably still want to tune in for the game show's biggest prize pool yet, $300,000.
With Rampage hitting movie theaters this Friday, Johnson has been going through the usual motions of a big-budget movie PR campaign. He's done talk shows, radio interviews and even popped up in a few surprising places. That pre-launch hype train will roll directly onto your iOS or Android device this Wednesday, as The People's Champ is set to host a game show boasting 12 not-so-simple questions.
For those who have missed out on the HQ party up to this point, players tune into the game show on their smartphones and tablets at a scheduled time to take part in a live quiz show. Everyone can participate and, as such, the questions are known to get pretty tough by the later stages. If you answer a question correctly, you get to continue to the next round of the game. If you answer incorrectly, all you get to do is watch. Many shows end with all players being ousted but, when folks do win, they get to split whatever the game's current pot just so happens to be. This is real-world money we're talking about here, which is why we figure Johnson's appearance on the quiz show is only part of the reason folks will likely show up in record numbers. I mean, $300,000 isn't really something to scoff at.
According to The People, the show's regular host, Scott Rogowsky, will also be on hand to make sure things run smoothly. Otherwise, those who want to tune into the 3 p.m. ET Wednesday show will have the opportunity to answer questions posed by The Rock. If you don't already have HQ on your smart device, simply download it through the Apple or Google stores.
Despite all of that, the most insane thing about all of this information is that a movie based on Rampage is not only going to release in theaters, but it's probably going to make a boatload of cash, too. In the original game, a trio of kaiju tear apart the city, eat innocent bystanders and fight off everything from the police to the military. Not a lot to work with in the plot department, obviously, which is where the military experiment that created the monsters comes into play, as well as the human hook provided by Johnson and his fellow on-screen pals. I mean, the trailers alone show off more story than I would have every thought possible for a film based on Rampage, so here's hoping it turns out well.
Still, if they would have just been a little earlier with this film, what are the chances The Rock and his trio of towering monstrosities could have made a cameo in Ready Player One?
Your Daily Blend of Entertainment News
Staff Writer for CinemaBlend.