Mario Tennis Aces To Get A Free Beta On Switch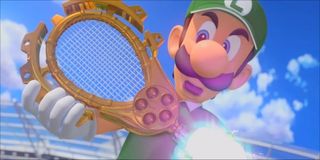 (Image credit: Nintendo)
If you can't wait for Mario Tennis Aces to launch for the Nintendo Switch this summer, you're in luck, because you can actually get in some game time with the title well ahead of its release. And, the best part about it is that you don't even have to pay a dime in order to do so.
Nintendo announced that between June 1st and June 3rd you can download the beta client for Mario Tennis Aces and play for free for those three days. This will allow Nintendo to make some last minute modifications to the online portion of the game, as well as iron out any last minute kinks on the backend ahead of the June 22nd release.
The free tournament mode available in the beta can be accessed from the Nintendo eShop, and Nintendo is actually allowing people to download the beta client ahead of the actual test. In fact, you'll be able to acquire the client starting May 24th. Once the beta tournament starts on June 1st you'll be able to play four characters from the roster, including Mario, Princess Peach, Yoshi and Bowser.
The beta will focus on online multiplayer matches, so you'll be able to hone your skills and learn about the trick shots and the ins and outs of blocking and lobbing. If you manage to advance through the tournament by earning enough points, there is actually the option unlock five additional playable characters in Mario Tennis Aces' beta, which is kind of cool. The press release doesn't say who these other five characters are but instead notes that players will have to play through the game to discover who they are for themselves. It's rare that a company adds that level of intrigue and mystery to a beta, but Nintendo isn't any 'ole conventional publisher.
Now, if you're worried about getting aced in the beta, there's no need for that. Nintendo is also allowing players to partake in offline matches, as well, during the beta. So, you can try out some of the single-player content against AI controlled opponents to hone your craft and learn more about the gameplay and mechanics. Even if you play in the offline mode you'll be able to unlock a classic Mario outfit for the full game ahead of the June 22nd launch. This will also carry over into the full game if you decide to pick up a copy at the end of the month.
The full game will have more than just offline and online multiplayer tennis matches for players to enjoy. There's also a full-on adventure mode that will be included as well. Nintendo briefly teased some of the features in a trailer on the Nintendo YouTube channel, which features Mario having to journey through a tennis world in order to save Luigi after he was captured.
The adventure mode features more than just standard matches, though. You'll have to complete mini-game segments, take on all sorts of odd challenges, and even face off against a variety of bosses. It uses the traditional Super Mario World overworld concept, but with the challenges and mini-games being set up a little bit like the Mario Party games where different areas and levels have different challenges to complete.
You'll be able to take part in the Mario Tennis Aces free beta for the Nintendo Switch starting June 1st, while the full game will unlock starting June 22nd.
Your Daily Blend of Entertainment News
Staff Writer at CinemaBlend.