The Nintendo Switch Online Service Means No Virtual Console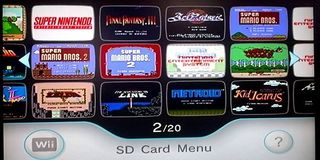 Nintendo recently announced plans for its premium online service for the Nintendo Switch, including a hub that will let subscribers play some classic games. And, according to a follow-up report, it appears this is as close to a return for the Virtual Console as Nintendo plans to get on the platform.
The "Nintendo Switch Online" announcement has received mixed reviews so far, with folks in Camp Negative being spurred on by a recent report from Kotaku. According to their chat with the publisher, Nintendo does not plan on adding a Virtual Console to their online offerings at this time.
In case you've missed out on a couple of generations of Nintendo consoles, the Wii, Wii U and Nintendo 3DS have all had a Virtual Console banner in their respective marketplaces. This collection of games was primarily dominated by old-school Nintendo games, including titles from the NES, SNES, Game Boy, Game Boy Advance and Nintendo 64. Other non-Nintendo platforms were also included in this category, though, including classic games from Sega systems and the Neo Geo.
The Virtual Console functioned just like any other branch of a modern digital games marketplace, the only difference being that it featured digital versions of much older games. For a few bucks, you could add games like Super Mario Bros., The Legend of Zelda: Majora's Mask or Pokemon Red to your digital collection. No matter what platform the Virtual Console was on, it was a big hit with fans.
In the Switch's first year on the market, many assumed it was just a matter of time before a new iteration of the Virtual Console was announced. I mean, who wouldn't want to play Earthbound or Mario RPG on their Switch, right? And once word got around that the Switch's premium online service would roll out in September, it was assumed that the Virtual Console would be along for the ride.
As it turns out, Nintendo isn't planning on bringing the Switch to the platform anytime soon, even though we figure that means they're willing to leave a hell of a lot of money on the table for what seems like it would be a small amount of work. Instead, they're leaving it up to each publisher to make their own retro plans, as evidenced by a handful of Neo Geo games already being on the Switch marketplace and Sega's recently announced classic games collection. As for Nintendo, their premium service will allow access to a set of classic games in a system that's being compared to Netflix. There will be 20 titles at launch, with more set to arrive on a regular schedule. If you subscribe to the online service, you can play any and all of these games, with bonus features like online multiplayer and save files, for as long as you want.
Sadly, since the program is called Nintendo Entertainment System -- Nintendo Switch Online, we figure it's a safe bet that only NES games will be included in the digital library.
Your Daily Blend of Entertainment News
Staff Writer for CinemaBlend.
Your Daily Blend of Entertainment News
Thank you for signing up to CinemaBlend. You will receive a verification email shortly.
There was a problem. Please refresh the page and try again.