New Details on Donkey Kong DLC For Mario + Rabbids: Kingdom Battle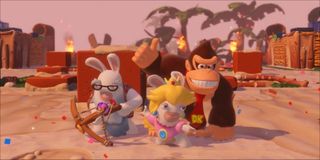 (Image credit: Ubisoft)
Ubisoft rolled out some brand new details and footage for the upcoming expansion pack DLC for the turn-based, adventure strategy game for the Nintendo Switch, Mario + Rabbids: Kingdom Battle. The new details explain how you'll play Donkey Kong in the game and what you can expect from the expansion.
The info was posted on the Ubisoft North America YouTube account, where it goes through some of the new combat mechanics, level traversal, and enemies that you'll encounter while playing as Donkey Kong in the new expansion for the Nintendo Switch exclusive. This includes traveling to an all new world based on a Rabbid-fied version of the Donkey Kong Country, which features all new enemies and puzzles for players to solve.
One of the big new features for Mario + Rabbids: Kingdom Battle when playing as Donkey Kong is that he can pick up nearly everything and throw it. This includes being able to pick up enemies and throw them, or pick up cover and throw it, or pick up other objects littering the battlefield and throw it. You can use the thrown objects for a couple of different tactics, first off you can throw objects to destroy your opponent's cover, which can be tactically advantageous for you.
Different types of objects also have different types of effects when you throw them. For instance, bouncing objects will create a bounce effect when it hits a target after being thrown, while an explosive item will blow up when it connects with a target.
Additionally, there's also a new playable character in the form of Rabbid Cranky, which is based on Cranky Kong from the Donkey Kong series. Cranky and Donkey can also team up to perform a team-jump maneuver when Donkey Kong jumps onto Rabbid Cranky and grabs him and then throws him across the battlefield.
In addition to the two new playable characters, Ubisoft also decided to ramp up the amount of weapons available for players in Mario + Rabbids: Kingdom Battle. For instance, there are 60 brand new weapons that you can acquire for the existing characters and for the new playable characters, including a variety of different cane-guns for Rabbid Cranky.
Some of you are probably wondering how the weapons work with someone like Donkey Kong, but it's explained that he uses a variety of different bananas, throwing them to do damage. You can see how it all plays out with the overview video below.
But, having new and powerful weapons would be pointless unless you had new and powerful enemies to face off against. It's revealed that there are brand new enemies that you will face in the game, including the new Summoner Rabbids. The Summoner is capable of summoning additional enemies onto the battlefield, meaning that the longer the battles persist where you don't kill the Summoner, the harder it all becomes.
You'll be able to engage with the new Donkey Kong content in Mario + Rabbids: Kingdom Battle either after you beat the full game or after you finish the first world. The full DLC runs for about 10 hours and you'll be able to purchase the DLC starting in June, exclusively for the Nintendo Switch. Alternatively, if you have the season pass for the game, it'll automatically unlock for you.
Your Daily Blend of Entertainment News
Staff Writer at CinemaBlend.