Mario + Rabbids: Kingdom Battle Has A Season Pass, Because Of Course It Does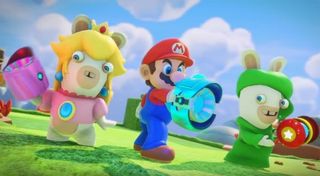 (Image credit: Ubisoft)
With Mario + Rabbids: Kingdom Battle set to launch at the end of the month for the Nintendo Switch, lots of questions loom over the game in terms of content and DLC. Well, one question has finally been answered regarding whether or not the game will have a season pass: of course it does.
Polygon is reporting that Mario + Rabbids Kingdom Battle will have a $20 season pass. The game's season pass will contain three rounds of content, including exclusive steampunk-inspired weapons during the launch of the game on August 29th.
After that you'll have to wait until the fall before additional DLC becomes available. In the fall you'll experience new solo challenges and additional co-op maps that you'll be able to play with friends or family. Unfortunately there are no details on what the solo challenges entail, how many will be included in the pack or whether or not they will be story-oriented or completely separate. As for the co-op maps, there are no details on what these will entail for Mario + Rabbids: Kingdom Battle and if this will apply to maps in a separate mode or if this will be available as story mode content.
Nevertheless, the season pass content does not end there.
According to Polygon there will be one last bit of DLC released in 2018. We don't know when in 2018 the DLC will be available, but it's labeled as "A New Unexpected Story Content". So obviously we know that this will pertain to the game's story mode. In what capacity it will expand the story -- and if it will be a menial side-quest like in some of Assassin's Creed or Fallout 4 DLC, or if it will be something substantial like Final Fantasy XV's DLC -- remains to be seen.
There's definitely a lot of potential there, but Ubisoft and season passes are a bit of a toss up. Some games have had substantial amounts of DLC made available, such as Rainbow Six: Siege, while other games have been given very miniscule amounts of post-launch content, such as Assassin's Creed: Unity.
Then again, fewer amounts of DLC would probably be viewed by gamers as a good thing, because it means having to pay less for pieces of the content that they might feel is cut from the game.
As for the game itself... Mario + Rabbids is an odd game that's a little difficult to describe. It's basically an adventure title about Mario and a few of the Rabbids from Raymen And The Raving Rabbids, where some of the good Rabbids team up with Mario, Peach, Luigi and Yoshi in order to fight against some of the evil Rabbids who have invaded Toadstool Kingdom.
It's up to Mario and the good Rabbids to stop the bad Rabbids, but it's not a typical platforming game. According to Shigeru Miyamoto, the Nintendo give a thumbs up for Ubisoft to make a Super Mario and Raving Rabbids crossover on the condition that it wasn't a platforming game. Ubisoft obliged by making a 3D, adventure, turn-based battle game. Many people compare it to Firaxis' take on the XCOM series, but with a Super Mario skin.
You'll be able to look for Mario + Rabbids and the first piece of the DLC to launch on August 29th. There is no word just yet on if you can buy the DLC separately outside of the season pass, but I'm sure details on that will arrive soon.
Your Daily Blend of Entertainment News
Staff Writer at CinemaBlend.