The Walking Dead: The Final Season Has A Release Date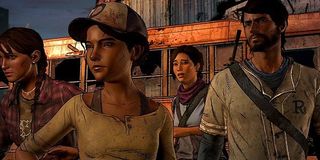 It's been a long journey through the zombie-filled post-apocalypse, but it looks like the tale of Clementine and her companions has nearly reached its end. Telltale's The Walking Dead: The Final Season finally has a launch date, so you might want to start getting emotionally prepared.
The Walking Dead: The Final Season is set to kick off on Aug. 14 for players on PC, PlayStation 4 and Xbox One. That date is across all regions, so nobody will get a head-start on the emotional roller coaster ride it's likely to be. Also, the game will launch later this year for the Nintendo Switch, though Telltale did not have a more specific window than that.
It's not a stretch to say that the original season of The Walking Dead revolutionized and completely revitalized the adventure game genre. Critics and fans alike were taken completely by surprise by how effective the game was at telling its story, as well as forcing players to make nearly impossible decisions on a regular basis.
That all got rolling back in 2012 and, six years later, we're finally going to see how the whole thing comes to a close. What's super cool about all of this is that, not only have we been able to follow Clementine from being a scared child to being a badass young woman, but the decisions we've made along the way have continued to have an impact on the narrative. Maybe that impact isn't as huge as some series fans would like, but it's not often you get to follow a story that feels so unique and personal for more than half a decade of gameplay.
The core series has taken place over the span of four games so far, with a couple of spin-offs helping flesh out the world along the way. This fifth season, though, will wrap the whole package up. Telltale has announced that this final season of The Walking Dead will be told across four chapters and can all be purchased for $19.99. Again, this is an episodic game, so you'll get the first chapter on Aug. 14 and the rest as soon as they become available. Pre-orders go live starting June 8, in case you want to jump in bright and early. The bonus to doing that is that you will be given a gratis copy of The Walking Dead: The Telltale Series Collection, containing all 19 existing episodes of the series up to this point. If you haven't played the games yet and are even just a little bit interested, that pre-order bonus seems like a no-brainer.
As for the story, the only details available (and probably the only ones you'll want) are that Clementine has located an abandoned school that seems like the perfect place to finally set up a home for her and her followers.
The announcement states that, in traditional Walking Dead fashion, players can expect a gut-wrenching story and difficult choices along the way. Most importantly, players will be in charge of determining the end of Clementine's tale, which has us a bit shook concerning how this whole thing will play out.
Your Daily Blend of Entertainment News
Staff Writer for CinemaBlend.