Life Is Strange Developer's Next Game, Twin Mirror, Looks Dark and Surreal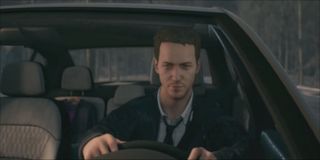 Dontnod Entertainment may have recently released Vampyr in collaboration with Focus Home Interactive for the PS4, Xbox One and PC, but the company is already looking toward its next big outing called Twin Mirror and a new trailer for the game is both dark and surreal.
The Twin Mirror trailer is only a minute and a half long, and it starts with a voiceover of the main character talking about a place where it all "ended." He talks about it only being a year since it all happened, but he doesn't say what happened exactly. We do get a brief glimpse of a flashback of what appears to be his girlfriend, who says she's not trying to hurt him.
While staying at a local hotel, Sam, the protagonist, blacks out and wakes up shirtless in the hotel bed. Things turn out rather poor for Sam when he discovers that his shirt is in the bathroom and it's caked with blood... blood that isn't his own. Unfortunately for Sam, he has no idea what happened the night before or where to begin on fixing his dire situation.
Twin Mirror then takes on a more surreal turn, as Sam then begins to experience a completely alternate world from the real one. It reminds me a lot of Quantic Dream's Indigo Prophecy and the recent adventure game from Among Giants called Distortions, which also centered heavily on the concept of exploring a fractured and surrealistic world based on a distorted reality.
The trailer wraps up with Sam telling himself to wake up and remember. The thing that we don't know is if the surreal world is actually real in some way or a figment of Sam's imagination. Then again, the game also seems to be playing on the notion that Sam might be trapped in some sort of a dream world.
It's pretty obvious that there are some strong semblances to David Lynch's Twin Peaks, especially with the way the slice of life elements are framed in the trailer for Twin Mirror... and let's not ignore the very obvious "Twin" in the title.
We still don't really know where the game could go or what it's about other than Sam possibly being involved in a murder plot, but given Dontnod's penchant for sci-fi drama, as evident with Life is Strange and Vampyr, don't be surprised if the game dabbles in the supernatural.
While the latest game from Dontnod may have been published by Focus Home Interactive, the upcoming title from the makers of Life is Strange is actually being published by Bandai Namco, as evident with the fact that Twin Mirror was published on the Bandai Namco Entertainment YouTube channel.
Interestingly enough, this means that Dontnod has had its games published by Square Enix, Focus Home, and Bandai Namco. The company's first game, Remember Me, was also published by Capcom, so the only three major publishers that Dontnod has yet to work with is Activision, Ubisoft and Electronic Arts.
Twin Mirror is due for release in 2019 for the Xbox One, PS4 and PC.
Your Daily Blend of Entertainment News
Staff Writer at CinemaBlend.