Fortnite On The Nintendo Switch Doesn't Require The App For Chat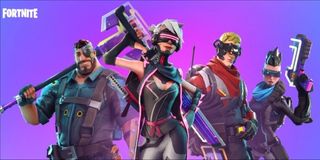 (Image credit: Epic Games)
One of the big surprises during the Nintendo E3 Direct on Tuesday was that Fortnite from Epic Games was made available for Nintendo Switch users. That's right, the most played and popular action game in the world right now has finally made the leap to Nintendo's platform, and it managed to make the jump while leaving behind one of the most annoying roadblocks that Nintendo had implemented into the Nintendo Switch's online requirement that completely crippled the chatting experience. For Fortnite it's possible to play the game without requiring the use of the app for chat.
During the first day of E3 coverage from the Nintendo YouTube channel, some of Epic Games' developers showed up at Nintendo's booth, where they revealed that they do support party chat through the headsets or through a microphone. Essentially if you have a wireless headset or a USB headset, a wireless microphone, or a USB microphone, you are able to plug the device in and communicate with your squad through cross-platform chat support.
Epic Games does mention that the chat options for voice support will be available starting Thursday morning. So, if you try to make use of the voice chat right now you won't be able to, but starting Thursday morning you'll be able to plug in your headset or microphone and use it to communicate with your buddies in Fortnite on the Nintendo Switch with the voice chat options.
Now, if you're hoping to be able to play the game with your friends on the PS4, the cross-platform compatibility between PS4 and Nintendo Switch users is not possible. Sony has repeatedly made it clear that you cannot do cross-platform play between home consoles -- specifically the Xbox One and Nintendo Switch being able to interact with the PlayStation 4. A glitch some time ago made it possible for Xbox One and PS4 users to play Fortnite together, but Sony made it clear that this was not going to be the norm, and Epic Games had to patch the game to ensure that PS4 and Xbox One users cannot play with one another.
Sony's reasons for a lack of cross-platform compatibility was that there were security concerns. Microsoft took umbrage with the claim that Xbox was less secure than PlayStation, but it didn't stop Sony from enforcing the policies.
As for the voice chat issue, the previous setup was pretty confusing, as it required players to connect their smartphone to the Switch. The hassle of trying to voice chat while using your phone was a completely awful setup for a lot of games, but it's nice that Epic Games has decided to take a step back and afford for Nintendo Switch owners to be able to play easily and conveniently with a headset or a microphone.
Fortnite is available right now on the Nintendo Switch from the Nintendo eShop. The third-person shooter is widely popular right now on every platform it's available for, and now Nintendo Switch owners will be able to take part in it and party chat.
Your Daily Blend of Entertainment News
Staff Writer at CinemaBlend.
Your Daily Blend of Entertainment News
Thank you for signing up to CinemaBlend. You will receive a verification email shortly.
There was a problem. Please refresh the page and try again.