Spider-Man PS4 Features Avengers Tower, Will There Be More Connections?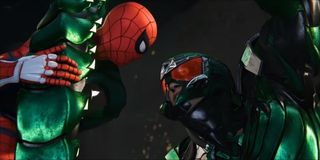 The upcoming release of Marvel's Spider-Man for the PlayStation 4 from Insomniac Games has been picking up a ton of support and has really managed to find a soft spot in the hearts of PlayStation gamers and comic book fans. And if you were excited about the game before, there's reason to get even more excited now that there are hints that Marvel's Spider-Man may have some connection to the Avengers.
In a video posted up by YouTuber Caboose, at the 53-second mark we get a short reveal of the Avengers Tower as seen in both Marvel Comics and the Marvel Cinematic Universe. The tower was introduced in the Avengers films, giving the heroes a place for respite and to formulate their tactics. Seeing it in Marvel's Spider-Man opens up a host of questions.
Could this be an older Spider-Man based on an existing Marvel universe? And if we're seeing a Marvel Easter Egg in the game does that mean there's possibly more to come? According to Screen Rant, the game is set in a standalone universe and is not explicitly connected to Marvel's Cinematic Universe, which is a bummer for anyone who wanted to see any of the actors from the films appear in the game with their likenesses and voice intact.
One thing that definitely comes to mind is that during Sony's E3 press conference there was some new gameplay footage of Marvel's Spider-Man on display, where the eponymous hero was battling some prisoners and then proceeded to fight in a boss showdown against a handful of Spider-Man's most dangerous villains. During the end of the fight, once Spider-Man is seemingly down for the count after being clobbered by all the villains, we then get a glimpse of light and someone coming to save Spider-Man from his merciless beatdown.
The thing is, we have no idea who the mystery savior is but it's obviously someone with the ability to make short work of verticality. Now technically it could be any number of heroes coming to Spider-Man's aid, from Black Cat to Spider-Woman to Venom. However, with Insomniac Games having an Avengers Tower Easter Egg nestled in plain sight within Marvel's Spider-Man, is it possible that the guest appearance could actually be an Avenger?
Even if it isn't expressly the MCU's version of Iron Man, could it be possible that it's at least Insomniac's version of the character? Well, there is potentiality to broaden the in-game universe but right now the developers are focused on making it a standalone game. If things go over well then we could see more games based on the popular Marvel superheroes making their way into a shared universe (or at least, fans can hope).
Insomniac, Sony, and Marvel will probably keep Spider-Man's new ally a super secret until the game releases later this year for the PS4, but it's cool that we get to see these kind of crossover Easter Eggs appearing in Marvel's Spider-Man.
Your Daily Blend of Entertainment News
Staff Writer at CinemaBlend.
Your Daily Blend of Entertainment News
Thank you for signing up to CinemaBlend. You will receive a verification email shortly.
There was a problem. Please refresh the page and try again.