How The Resident Evil 2 Remake Will Balance Old And New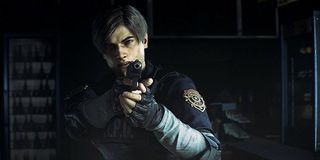 It's been one week since E3 2018 wrapped, and one of the most talked-about games from the show is a remake of a 20-year-old title. Survival horror fans new and old seem excited for the return of Resident Evil 2, which looks to take the series back to its zombie-infested roots. At the same time, the development team is implementing some clever twists which should help keep the game fresh and terrifying, even for series vets. Producer Yoshiaki Hirabayashi, for instance, compared developing the game to being on a see-saw. In a recent interview, he explained:
Resident Evil 2 looked great on-screen and, after getting to play through a portion of the game at the show, I can confirm that it plays super well, too. In that preview, I noted that this remake of Resident Evil 2 seemed to be doing a great job of blending classic elements of the game with some newer twists courtesy of that wonderful Resident Evil 7 game engine. The folks over at Gamespot had a word with producer Yoshiaki Hirabayashi and Tsuyoshi Kanda about this balancing act, and they were surprisingly candid with their responses about the need to combine elements of the past and future.
That's evident not just from the new visuals and over-the-shoulder view, but also the more varied sound design, great new voice work, and zombies boasting animations that are almost too good. While inching my way through the Raccoon City Police Department, I was constantly confronted with a sense of nostalgia for the original, as well as the feeling that I was experiencing something totally new. As Kanda put it, that was absolutely by design:
The remake of Resident Evil 2 was one of the few surprises during E3 2018. While we've known for a few years now that Capcom was working on the game, we never received much in the line of a status update. Then, out of nowhere, the game popped up during the PlayStation presentation, and damn-near stole the show. That's an impressive feat when folks are also looking at footage from games like Ghost of Tsushima, The Last of Us Part II and Death Stranding.
Capcom took a page from Bethesda when it came time to finally show off Resident Evil 2. Since we haven't heard much about the game up until now, it would make sense to assume we were, bare minimum, a year out from getting it in our hands. Instead, it'll arrive in pretty short order, launching on January 29, 2019.
Staff Writer for CinemaBlend.
Your Daily Blend of Entertainment News
Thank you for signing up to CinemaBlend. You will receive a verification email shortly.
There was a problem. Please refresh the page and try again.