Middle-Earth: Shadow Of War Has Killed Loot Boxes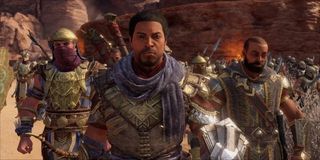 (Image credit: Warner Bros)
With certain regions cracking down on the whole predatory loot box crazy that has taken the AAA gaming industry by storm, certain companies are being forced to remove the loot boxes or else they'll be facing some nasty fines in various regions, specifically in Belgium and the Netherlands. A few companies have decided to acquiesce to the legal standards and remove the loot boxes from their games entirely. One of those companies happened to be Warner Bros. Interactive Entertainment, and earlier in the year Warner Bros., announced that it would be removing the premium loot boxes from Middle-Earth: Shadow of War before the summer was out. Well, the company followed through with its promise and the loot boxes in the game have officially been killed.
Over on the official WB Games website, there's an update from the community administrator, announcing that the loot box market for Middle-Earth: Shadow of War has been removed. The market has been replaced with a new Garrison menu that grants you access to your orcs, chests, training orders and boosts.
This comes on the heels of Belgium and Netherlands gaming commissions ruling that loot boxes were illegal because they were gambling. Now gambling in those regions are not illegal, however, if you wish to open up a casino in Belgium or the Netherlands you need a gambling license to do so. Operating gambling institutions or mechanisms without a license is what's illegal, and basically, none of the publishers acquired a gambling license to use gambling mechanisms in their games that require real money.
Some people have argued that loot boxes aren't gambling, but most definitions of gambling are based around engaging in a game of chance at a place or using a device where money or things of monetary value are being used as a bet. In this case, you're paying real money into the chance game of getting an item out of the loot box. It works identical to a game of roulette or a slot machine, as noted by the gambling commissions. What's more is that the regulators felt as if the lack of licensing to include loot boxes into games and the fostered growth of gray market facilitators surrounding games like FIFA andCounter-Strike: Global Offensive -- which are worth billions of dollars annually -- makes loot boxes a dangerous inclusion into games, especially those that aren't rated to be purchased by those 21 years of age and older.
Other regions have been a bit less decisive about the conclusions regarding loot boxes. The French ARJEL regulator deemed loot boxes not gambling, mostly because players didn't gain anything of real-world value out of their bets. However, the ARJEL did admit that loot boxes operate on the same psychological wavelength as other casino games and could prove to be addictive. Instead of making any conclusions about loot boxes, though, ARJEL requested more research and consensus among the EU bodies before making a definitive statement about loot boxes.
Valve was the first to block the loot boxes in games like Counter-Strike: Global Offensive in the regions where loot boxes are deemed illegal. Warner Bros., however, decided to simply remove the loot boxes from Middle-Earth: Shadow of War altogether.
Staff Writer at CinemaBlend.
Your Daily Blend of Entertainment News
Thank you for signing up to CinemaBlend. You will receive a verification email shortly.
There was a problem. Please refresh the page and try again.