WWE 2K19 Is Getting A Special Ric Flair Wooooo! Edition, Here's What's In It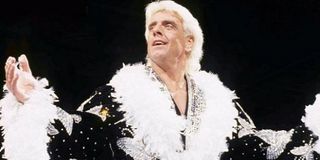 If you're looking to take your virtual wrestling up to the next level, then WWE 2K19 has a special edition that should probably be on your radar. It's themed after icon Ric Flair, and it's actually called the Wooooo! Edition.
Just revealed on the WWE 2K19 website, the Wooooo! Edition pays homage to the Golden Boy of the squared circle, Ric Flair. We'll get to the finer details in just a moment but, for folks who are running out of patience and just want to get their hands on the game, we figure the first highlight is that this version of the game will get you in the door as part of the Early Access program that begins on Oct. 5. If you don't have a calendar handy, that's four days before the rest of the world gets to play the game.
As for Ric Flair's special outing, the game and various physical goodies will come packaged in a special box boasting images of the Nature Boy himself. As for the game, you'll get a physical copy of the Deluxe Edition of WWE 2K19, which comes packed with a bunch of digital extras including access to the upcoming season pass of DLC, Rey Mysterio and Ronda Rousey as playable characters, playable WWE Hall-of-Famers Rowdy Roddy Piper, Dusty Rhodes and Ricky "The Dragon" Steamboat, as well as a playable historical version of Macho Man Randy Savage and Undertaker.
Also included in that pile of in-game content is a playable Starcade 1983 arena and special in-game attire that lets you dress up Ric Flair in his Wrestlemania 24 robe and daughter Charlotte Flair in her Wrestlemania 32 robe.
Along with the game and all of that content, this souped-up package comes with a Hall of Fame replica ring, a "Nature Boy"-inspired Funko Pop figure, a commemorative plaque featuring a piece of fabric from Ric's pink and purple robe and a couple limited edition WWE SuperCards boasting both Ric and Charlotte Flair.
While the standard version of WWE 2K19 will set you back the usual 60 bucks and the Deluxe Edition is going for $90, the Wooooo! Edition is going for $129.99. That's a hefty price tag, but there's quite a bit of content crammed into the box and, barring a foot-tall Ric Flair statue, it still doesn't compete with Capcom's recently revealed Resident Evil 2 package.
The game proper launches for Xbox One and PlayStation 4 on Oct. 9 but, again, if you buy either of those enhanced versions, you'll get to start playing a few days early. Sadly, no images of the Pop toy are available yet, so you'll just have to use your imagination when it comes to how glorious that wobbly-headed desk ornament must be.
Staff Writer for CinemaBlend.
Your Daily Blend of Entertainment News
Thank you for signing up to CinemaBlend. You will receive a verification email shortly.
There was a problem. Please refresh the page and try again.