August's Games With Gold Brings For Honor And Mickey Mouse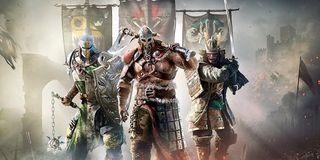 August is nearly upon us, which means it's time to swap out the roster of Games with Gold for a fresh batch of Xbox One and Xbox 360 titles. Next month's games run the spectrum, including everything from Disney mascots and bloody decapitations to alien invasions and speeding sports cars.
If you're an Xbox Live Gold subscriber, then you're likely very familiar with the Games with Gold program. In short, it includes a rotating roster of four games that players may download and keep each month. This comes at no additional cost on top of the Gold membership. When the new games become available, simply get the download rolling and they're as good as yours. As an added bonus, all Xbox 360 games in the collection are also backwards compatible on the Xbox One, meaning you can download and play them on Microsoft's current console as well as their last-gen machine.
In August, the Gold collection kicks off with For Honor and Forza Horizon 2 -- 10th Anniversary Edition on the Xbox One. For Honor is a war game featuring two teams of warring factions. Players can side with knights, samurai, Vikings and, following the most recent update, Chinese forces. Combat is class-based, with players tasked with controlling the battlefield while taking down their opponents in strategic sword fights. The game has been steadily growing over the past year, so we imagine having For Honor become a Games with Gold offering will provide an impressive influx of new players.
As for Forza Horizon 2, you know what to expect by now. While the series is nearing the launch of its fourth entry, there's still plenty of fun to be had on this enhanced version of the second Forza Horizon game. The tracks are great, the cars are fast and the driving is a bit more arcade than your standard driving simulation.
Hopping over to the Xbox 360 offerings, August will bring both Dead Space 3 and Disney's Epic Mickey 2. Even the weakest entry in the Dead Space series is still a hell of a lot of fun to play, and that goes double if you've got a friend along for the ride. And that communal spirit continues into Epic Mickey 2, boasting puzzles and challenges that are best experienced with "the power of two." Again, both of these games are playable on the Xbox One, so feel free to take them for a test drive if you're looking to beef up the backlog while working your way through the slow summer.
Forza will be available for download from Aug. 1-31 while For Honor can be yours from Aug. 16 to Sept. 15. Dead Space 3 is available from Aug. 1-15, with Epic Mickey 2 on the menu from Aug. 16-31.
Staff Writer for CinemaBlend.
Your Daily Blend of Entertainment News
Thank you for signing up to CinemaBlend. You will receive a verification email shortly.
There was a problem. Please refresh the page and try again.